Why Investors Need Not Worry Over the Asian Rally
Asian equities have seen a sharp rally in 2017 due to attractive valuations and upward earnings potential.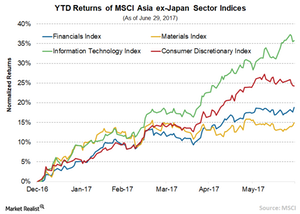 Matthews Asia
I do think, therefore, that the prospect of a pullback in the markets has risen but that it is likely to be more focused in cyclical areas of the market rather than sectors with long-term secular, if unremarkable, growth characteristics. And should that pullback happen, unless there is a radical change in the economic environment, I still believe the prospect of reasonable earnings growth in domestic sectors of the market is high.
So, beware the risks yes, but try not to be fearful of the rally just because it's a rally. Sentiment in the markets is far from euphoric and economies are not overheating.
Article continues below advertisement
Article continues below advertisement
Market Realist
No sharp downfall seen in Asian markets
Asian equities (AAXJ) have seen a sharp rally in 2017 due to attractive valuations and upward earnings potential. Given the 18.4% jump in the MSCI AC Asia Ex-Japan Index YTD (year-to-date), the view is spreading that markets are likely to take a breather, as fundamentals are not supportive of a further rally.
Although markets are unlikely to see a sharp correction, in the event of a pullback, cyclical stocks that typically perform better in growing economies could be affected, given Asia's uneven growth and weak demand in some pockets. The cyclical stocks in Asia (INDA) have outperformed defensive ones by almost 14% in the first half of the year, mainly driven by higher ROE (return on equity). Defensive sectors, which are not dependent on economic cycles, are likely to hold ground.
Earnings-driven rally
But despite the sharp rally so far in 2017, Asian markets still have more room to grow, given the higher earnings potential that keeps valuations in check. According to the UBS GEM Banks' database, earnings per share in Asia are estimated to rise a healthy 21.9% this year.
Higher economic growth, rising domestic demand, and stabilizing global conditions are meanwhile driving corporate earnings in the region. The World Bank increased its 2018 growth forecast for a group of economies in the region, including China (FXI), Indonesia (EIDO), and the Philippines, from 6.0% to 6.1%.
At the same time, Asia (AIA) is witnessing renewed interest from global investors as a possible hedge against expensive US markets. All these factors point to the fact that the Asian markets are far from overheating—and that fundamentals are still driving these markets.