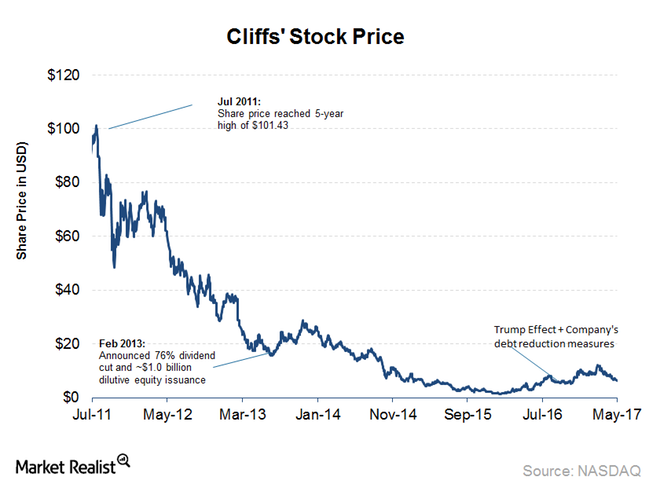 What to Expect from Cliffs Natural Resources' 2Q17 Earnings
CLF's performance in 1H17
Cliffs Natural Resources (CLF) stock has been under pressure since March 2017. In the three months ending May 2017, CLF stock had fallen a massive 46%.
While doubts regarding the follow-through of President Trump's policies were already pressuring the stock, the weaker seaborne iron ore prices steepened the decline. Increasing steel imports into the US are weighing down the stock prices of Cliffs Natural Resources and its US steel peers (SLX).
However, the recent price action for Cliffs Natural Resources has been positive. Although the stock traded with a year-to-date decline of 15% on June 12, 2017, the stock has gained 23% in the last 15 trading days.
Article continues below advertisement
Section 232 import probe
Cliffs Natural Resources (CLF) and US steelmakers such as U.S. Steel Corporation (X), Steel Dynamics (STLD), AK Steel (AKS), and ArcelorMittal (MT) stand to gain a lot from the favorable outcome of the Section 232 probe.
President Trump invoked this section to investigate whether steel imports threaten US national security. The investigation's findings could lead to a restriction on some steel imports.
As we'll discuss in detail later in this series, Cliffs Cliffs Natural Resources' CEO, Lourenco Goncalves, expects US steel prices to climb to $800 per ton if the probe results in a favorable decision for domestic steelmakers.
Series overview
The results season for Cliffs Natural Resources (CLF) and its US steelmaker peers is about to start. Cliffs Natural Resources expects to release its results on July 27, 2017, before the US market opens. The call with analysts to discuss the results is also scheduled for the same day.
The company had missed market expectations in its 1Q17 results. It had also downgraded its EBITDA[1. earnings before interest, tax, depreciation, and amortization] guidance for 2017 by 17.6%.
In this series, we'll see what investors could expect from Cliffs Natural Resources' 2Q17 earnings report. We'll look at the expectations for volumes and realized prices for the US and Asia-Pacific divisions.
We'll also discuss the earnings estimates for Cliffs Natural Resources. The analyst estimates usually lag behind price movements—upgrades come after stocks have risen, and downgrades typically come after stock prices fall.
Still, changes in analyst estimates are key drivers of short-term price movements. Investors should keep track of changes in analyst estimates because they provide insights into what the markets expect from a company.