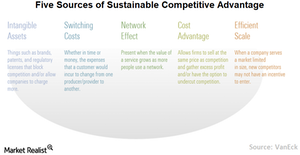 How Intangible Assets Create Value
VanEck
Intangible Assets Help Build Strong, Identifiable Advantages
Although not always easy to quantify, intangible assets are one of the primary sources of strong competitive advantages for businesses and a key source of economic moats. Intangible assets can include corporate intellectual property, such as patents, trademarks, copyrights, government licenses, and business methodologies. Intangible assets help companies to safeguard key competitive advantages. Companies can use patents, for instance, to protect inventions from unauthorized commercial usage by competitors. Like patents, government licenses also raise the entry hurdles for new competitors.
A company's reputation, often measured by goodwill and brand recognition, is also considered an intangible asset. Brand identities play a key role in helping companies to stay ahead of competitors, and simply put, a positive brand promotes sales, builds trust, and inspires customer loyalty.
According to Morningstar equity research, nearly 60% of its domestic and international moat-rated companies have achieved this recognition because of intangible assets defined by Morningstar Research as:
Article continues below advertisement
Article continues below advertisement
Intangible Assets. Patents, brands, regulatory licenses, and other intangible assets can prevent competitors from duplicating a company's products, or allow the company to charge a significant price premium. For example, patents protect the excess returns of pharmaceutical manufacturers such as Novartis NVS. When patents expire, generic competition can quickly push the prices of drugs down 80% or more.
Economic Moat
Article continues below advertisement
Market Realist
Tremendous shift occurring in favor of intangible assets
Intangible assets are nonphysical and nonmonetary in nature, which makes it hard to measure and manage them. Assets such as knowledge, skills, relationships, systems, processes, brands, and culture are intangible and are strategic to corporates. Such assets create long-term value for companies (GWRE) (AMZN).
In many instances, intangible assets are worth more to a company than tangible assets. Unlike financial and physical assets, intangible assets are hard to acquire and take longer to develop, making them important tools for the creation of a long-term sustainable competitive advantage (MOAT).
Varying worth
The worth of intangible assets varies from company to company (GILD) (UTX). For some companies, brands and trademark assets could be more important, while for others, intellectual capital and a consumer-centric workforce could be vital to creating a long-term niche.
Brands represent a uniform quality, credibility, and experience, while consumers derive social status from luxury brands. Though strong brands have the power to influence customers' buying habits, their financial impact on the company isn't easily quantifiable. Similarly, a retailer (XRT) couldn't quantify the worth of its consumer-centric workforce.
Key drivers in the knowledge economy
In the modern business era, there's been a tremendous shift occurring in companies' values from tangible assets to intangible assets such as intellectual capital and business processes. Intangible assets have become the key drivers of shareholder value in the knowledge economy.