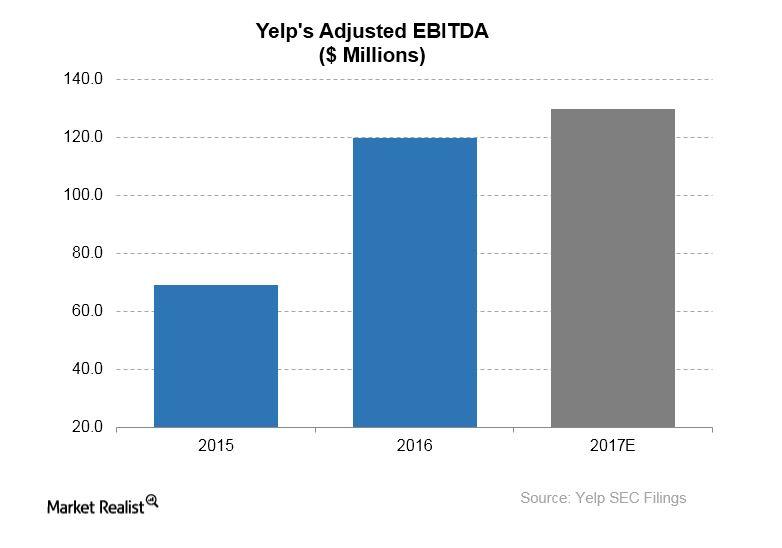 Inside Yelp's Turnstyle Value Proposition
Yelp trimmed its 2017 adjusted EBITDA—a move stemming from, in part, the impact of its acquisition of Turnstyle.
What Yelp paid for Turnstyle
Yelp (YELP) earlier this year acquired Turnstyle Analytics, a Canadian startup that targets businesses with solutions that allow them to tap into freely provided Wi-Fi networks to take their marketing efforts to a higher level. Yelp has revealed that it spent $20.0 million for the acquisition.
Speaking at a J.P. Morgan investor event last month, Yelp CFO (chief financial officer) Charles C. Baker discussed the acquisition, highlighting the impact the acquisition would likely have on Yelp's earnings this year and the long-term synergies the company sees in Turnstyle. Yelp renamed Turnstyle "Yelp Wi-Fi" after it completed the acquisition.
Article continues below advertisement
Article continues below advertisement
2017 EBITDA cut by $20 million
Yelp trimmed its 2017 adjusted EBITDA (earnings before interest, tax, depreciation, and amortization) by about $20 million. It said that between $5.0 million and $6.0 million of the EBITDA cut relates to the impact from the acquisition of Turnstyle.
The other piece of Yelp's EBITDA cut relates to a revenue challenge at a moment when the company is struggling with escalating competition from the likes of Alphabet's (GOOGL) Google, Facebook (FB), Amazon (AMZN), and Groupon (GRPN)—all big guns among advertisers.
Long-term prospects of Yelp Wi-Fi
Baker explained that Yelp Wi-Fi provides a device that a business can plug into its high-speed Internet connection so that it offers secure Internet access via Wi-Fi to its customers when they are on the premises. But the value of Yelp Wi-Fi extends beyond spreading secure Wi-Fi access.
The device also allows businesses to collect vital information about their customers, which they can use for marketing purposes like personalized advertising.
Yelp Wi-Fi thus complements the marketing services that Yelp offers its business customers. Through the Yelp Wi-Fi device, businesses can improve customer retention and loyalty.
Baker said that the Yelp Wi-Fi business commands a high gross profit margin, and customer churn is minimal. The device is offered on a monthly subscription basis.