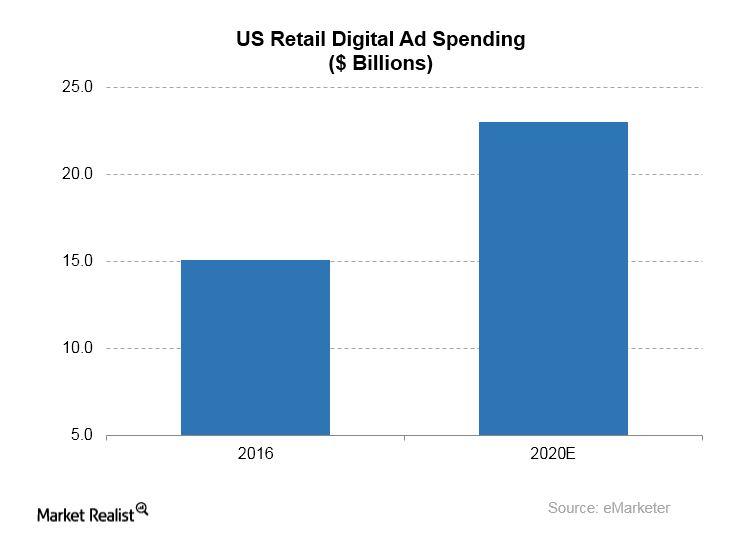 Acquisitions Bring Yelp Closer to Its Goal
Driving consumer engagement
The tuck-in acquisitions Yelp (YELP) has completed recently are contributing positively to its growth, which the company disclosed in May as it reported double-digit sales growth.
Yelp's overall revenues grew 24.4% in 1Q17 to $197.3 million. Its Advertising segment's sales increased 24.0%, its Transactions revenues rose 25% to $18.1 million, and its Other Services revenues increased 107.0% to $2.2 million.
Commenting on the acquisitions, Yelp's CEO, Jeremy Stoppelman, singled out Nowait and Turnstyle Analytics as contributing to more consumer engagement and driving value to business owners.
Article continues below advertisement
Article continues below advertisement
Seeking a $23 billion market
Yelp's other strategic acquisitions include Eat24 and SeatMe. These assets, alongside Nowait, are part of Yelp's efforts to grow its share of the restaurant business.
Research firm eMarketer forecasts that US (SPY) retail digital advertising, which includes restaurant advertising, could top $23.0 billion by 2020. The market was valued at ~$15.1 billion in 2016, as shown in the chart above.
Acquisitions bolstering Yelp's competition
With the addition of Nowait and Turnstyle Analytics, Yelp noted that consumers have more ways to interact on its platform. Yelp reported a 26% spike in cumulative reviews and a 22% increase in app unique devices to 26 million in 1Q17.
Increased consumer engagement can lead to greater value to business owners. Yelp reported a 17% increase in advertising accounts, reaching 139,000 total accounts.
Delivering greater value to businesses rewards Yelp in several ways. It increases customer retention, creates an opportunity to grow sales, and bolsters Yelp's competition against rivals such as Square (SQ), Groupon (GRPN), Facebook (FB), and Alphabet's (GOOGL) Google in local advertising.