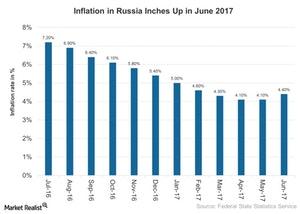 Inflation in Russia Moved away from Target Rate in June 2017
Inflation in Russia
Consumer prices in Russia (ERUS) rose 4.4% on a year-over-year basis in June 2017 following a 4.1% rise in the previous month. Inflation in Russia over the last year has been on a declining trend and has been close to the central bank's target level of 4%. Until the last month, inflation was declining. However, the Russian central bank lowered its key interest rate by half a percentage point to 9% on June 9, 2017.
Let's look at the inflationary trend in Russia over the last year in the below chart.
Article continues below advertisement
Inflation in June 2017
Inflation in Russia (RSX) in June 2017 remained above market expectations of 4.3%. Inflation in June 2017 was at the highest rate since February 2017. The prices increased at a faster pace, specifically for food items.
Food inflation rose to 4.9% as compared to 3.7% in the previous month. On the contrary, the prices grew at a slower pace in June 2017 for housing and utilities, clothing and footwear, transport, furnishings and household equipment, alcoholic beverages, tobacco, and hotels and restaurants. The food prices rose 3.7% in June 2017 as compared to 3.4% in May 2017.
The consumer price index in Russia (RUSL) rose 0.60% in June 2017 as compared to the previous month. However, the annual core inflation rate, which excludes volatile items, fell to 3.5% from 3.8% in May 2017.
Temporary supply shocks
The food prices accelerated suddenly in June 2017 after heavy rain and cold weather hammered crops and thus affected supply conditions. However, the central banks expect the inflation to move closer to the target rate in 2017, as the supply shocks fade away with a bumper harvest in a few months.
Monetary policy in Russia
The central bank of Russia shocked markets recently with a 25-basis-point cut as compared to expectations of a 50-basis-point cut. The central bank has adopted a moderately easy monetary policy to keep inflation close to the 4% target rate. The policymakers have also signaled the possibility of further rate cuts in the second half of 2017. The central bank's inflation expectation is low amid the recovery in economic activity in 2017.
The Russian economy (RSX) continues to show signs of recovery with expansion in the last two quarters. Considering these recovery trends, the Bank of Russia has increased its GDP growth rate forecast to 1.3% to 1.8% in 2017.
Let's look at the trade balance in Russia in our next article.