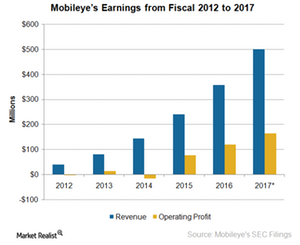 How the Acquisition of Mobileye Could Affect Intel's Earnings
Mobileye's acquisition
Intel (INTC) is acquiring Mobileye (MBLY) for $15.3 billion in order to grow in the autonomous vehicle market.
A $15.3 billion price tag for a company with just $350 million in annual revenue seems high. However, some analysts have presented a different perspective on the acquisition that justifies the price tag.
Article continues below advertisement
Is $15 billion for Mobileye justified?
A mature, cash-rich company such as Intel is looking to puts its cash to best use by making acquisitions in growth markets to improve its slowing growth rate. Mobileye is a leader in vision systems, giving Intel a strong position in a market that's expected to grow exponentially over the next five to ten years. If we look at Mobileye's growth outlook, its price tag seems justified.
Mobileye's revenue rose 49% YoY (year-over-year) to $358 million in 2016, driven by a 113.0% YoY rise in its aftermarket business and a 34.0% YoY rise in its OEM (original equipment manufacturer) business, according to Pacific Crest Securities analyst Brad Erickson.
Mobileye's OEM business is its largest revenue contributor, whereas its after-sales business is its fastest growing segment. The company's OEM sales increase the number of its chips in use, creating a growth opportunity in the aftermarket. The aftermarket includes recurring sales, and the products sold here have higher margins than those sold in the OEM business. As the aftermarket's share of the product mix rises, the company's profit margins should expand.
Article continues below advertisement
Impact of Mobileye on Intel's long-term earnings
While Mobileye's $360 million in revenue may seem like a drop in the ocean for Intel, its growth outlook is far better than Intel's. McKinsey expects ~15 million autonomous cars to be sold annually by 2030. This expectation presents a strong growth opportunity for Mobileye, which is a leader in vision systems for autonomous vehicles. This opportunity doesn't include the after-sales market.
Even though Mobileye's sales growth won't come before 2020, Intel has to act now in order to develop the right technology and ecosystem to tap this growth. NVIDIA (NVDA) is already at the forefront of the autonomous vehicle market.
Intel's Mobileye acquisition a smart use of cash
Some analysts believe that Intel's acquisition of Mobileye is the optimal use of its overseas cash. Intel can't use this cash to fund shareholder returns due to the high tax rate for repatriating it into the United States. The only thing it can do with this cash is to invest it in bonds, which yield 1.7%.
Analysts expect Mobileye to generate $750 million in revenue and $375 million in net profit in 2018. Measuring this net profit against the $15.3 billion takeover price, the acquisition should deliver a return of 2.5% in 2018, and this return should grow every year. In this way, Intel's Mobileye acquisition seems like a smart investment.
Next, let's look at Intel's data center business.