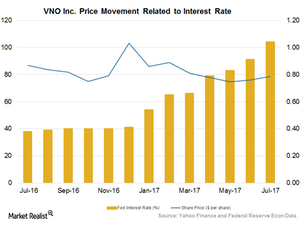 How Macro Issues Could Affect Vornado in 2Q17
Earnings and revenue expected to remain flat in 2Q17
Wall Street expects Vornado Realty Trust (VNO) to post flat year-over-year top-line and bottom-line results in 2Q17. The company is scheduled to release its 2Q17 results on July 31, 2017.
While the adjusted funds from operation (or AFFO) are expected to stand at $1.15, revenue is expected to fall marginally by 1.2% year-over-year to $622.3 million. The expected fall is mainly because the company is carrying on several dispositions of non-core assets, which may result in the dilution of earnings and lower revenues.
Article continues below advertisement
Rising interest rate  
The Fed has embarked on a phased increase of interest rates in order to reach its targeted rate of 2%. After hiking rates for the first time in December 2016, the central bank increased its rate again in March and June 2017 by a quarter point. The higher interest rate is accompanied by low inflation and higher GDP growth in the economy.
Margins may be under pressure in 2Q17
The higher interest rate environment may affect REITs like Vornado Realty Trust, AvalonBay Communities (AVB), Boston Properties (BXP), and Equity Residential (EQR). Vornado and its peers constitute 12.4% of the iShares Cohen & Steers REIT ETF (ICF).
Vornado's cost of debt may go up due to the higher interest rates in 2Q17. The higher interest rate makes mortgage and bank loans more expensive. The rate of interest is all the more important for these REITs because they depend on debt and equity for their working capital. Additional funds sources may become tighter as lenders are under the pressure of higher bank loans and mortgages.
Article continues below advertisement
Retail headwinds
Further, the retail sector is reeling under the pressure of declining traffic in malls and lower revenues. Customers are increasingly resorting to shopping online mainly because of the convenience. Moreover, online giants like Amazon (AMZN) give lucrative discounts to shoppers.
Strong fundamentals to offset macro issues
However, Vornado is expected to combat the macro headwinds with the help of its strategic sales-boosting initiatives. Vornado has categorically disposed of its non-core and underperforming assets and has instead increased its presence in the high-demand city of New York.
Wall Street expects Vornado to report EBITDA of $336.9 billion, 0.6% lower than that of 2Q16. Although interest expenses may go up sequentially, Wall Street expects the company to witness a 1.4% lower interest rate from levels a year ago.
Further, the growing economy is expected to boost the company's results in the second quarter as well.