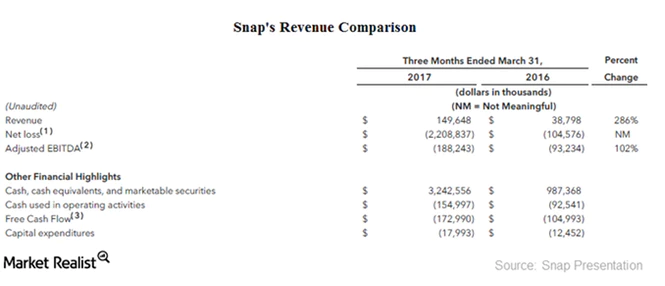 Here's What Impacted Snap Shares Last Month
SNAP stock fell 16% in June 2017
The stock for social media company Snap (SNAP) fell 16.0% last month to close at $17.77. The stock is now trading just above its IPO (initial public offering) price of $17. SNAP stock also fell 14.3% in the week ended June 9, 2017, after investment bank JPMorgan (JPM) cut its price target from $20 to $18. JPMorgan had raised concerns over Snap's ability to increase its advertising revenue, improve profitability, and maintain its user base in a competitive environment.
Article continues below advertisement
The investment bank expects Snap to face challenges to compete against social media giants Facebook (FB) and Twitter (TWTR) in terms of a growing user base and engagement. JPM also believes Snap will struggle to maintain profitability and estimates that it will post a net loss in earnings through fiscal 2020.
Recently, Nomura's Instinet stated that Snap's DAU (daily active users) has been declining, reducing its 12-month stock price target to $14.
Snap stock has fallen 27% since March
Snap stock has fallen more than 27.0% in the last four months. On May 12, 2017, the stock fell nearly 18.0% after reporting revenue below analyst estimates. Analysts have a median target estimate of $20.50 for Snap, indicating that the stock is trading at a discount of 15.4% to analyst estimates.