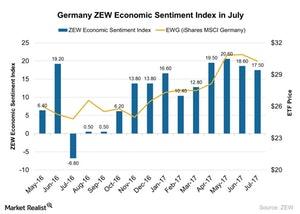 What the Germany ZEW Economic Sentiment Index Indicates
Germany ZEW Economic Sentiment Index
According to data by the Centre for European Economic Research (ZEW), the Germany ZEW Economic Sentiment Index was 17.5 in July 2017 compared to 18.6 in June 2017. It didn't meet the market expectation of 18.0.
As we saw in the previous part of this series, the index measures economists' confidence level. The index has been strong in the past year. However, in June and July 2017, it fell marginally, which could be correlated to the fall in consumer activity and corporate activity.
Article continues below advertisement
Germany (EWG) is one of the leading economies in the Eurozone (IEV) (VGK) (HEDJ). Manufacturing plays an important role in Germany's economy. Germany has seen continuing improvement in its manufacturing PMI (Purchasing Managers' Index), services PMI, and business climate index since August 2016. The fall in economic activity is an increasing concern for the country.
However, many market participants are expecting the Eurozone's economy to experience a huge structural change. Changes in political, economic, and trade policies could be important economic drivers.
Performances of major ETFs
The iShares MSCI Germany (EWG), which tracks the performance of Germany, has risen nearly 1.2% so far in July 2017. The iShares MSCI Germany Small Cap (EWGS), which tracks the performances of small-cap stocks in Germany, has risen nearly 5.1% so far in July.
In the next part of this series, we'll analyze inflation in the United Kingdom in June 2017.