Essex Property to See Growth due to Winning Strategies
The current macroeconomic scenario is conducive for growth in the residential REIT (real estate investment trust) sector.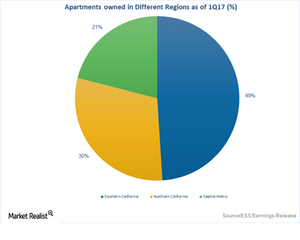 Strategic initiatives aid growth
The current macroeconomic scenario is conducive for growth in the residential REIT (real estate investment trust) sector.
The higher level of rent growth and surging demand for single family and multifamily apartments is expected to set these REITs on growth trajectories in the coming months.
Essex Property Trust (ESS) undertakes several strategic initiatives that should help it to maintain its occupancy.
Article continues below advertisement
Article continues below advertisement
Demographics
Essex Property concentrates its properties into Class A cities with high demand for rented apartments. Its properties are mainly located in regions with populations of over 1 million. These markets have high barriers to entry for competitors due to low availability of land and political barriers, and they're not conducive to the development of apartments due to natural causes.
Essex Property's properties are located mainly in the Los Angeles, Orange, San Diego, and Ventura counties and regions of Southern California, the San Francisco Bay area of Northern California, and the Seattle Metropolitan area.
Acquisitions
Essex Property is keen on expanding, and it's undertaking several acquisitions in order to maintain its share in the residential market. In 2016, the company took over 753 apartments worth $333.7 million in San Jose, San Diego, and Los Angeles.
Article continues below advertisement
Portfolio streamlining
Essex is also shedding its nonperforming properties and concentrating more on its core businesses. REITs such as Essex Property, AvalonBay Communities (AVB), Equity Residential (EQR), and UDR (UDR) place great importance on demographic locations, particularly the properties located in profitable Class A cities.
The iShares Residential Real Estate Capped ETF (REZ), in which AvalonBay, Equity Residential, and Essex Property make up ~20%, has a market cap–weighted index with a wide product portfolio covering industries such as healthcare, self-storage, and residential REITs. Investors looking for risk aversion may want to look at REZ, which provides a cushion against volatility.
As part of its streamlining strategy, Essex Property sold its headquarters in Palo Alto, California, and three residential communities, namely Harvest Park, Tuscana, and Candlewood North, in 2016. Apart from these divestitures, the company also disposed of two joint-venture apartment communities, The Heights and Canyon Creek, during the period. Essex uses the proceeds of these spin-offs to invest in higher-revenue-generating communities.
Since there's been healthy demand for high-quality, stabilized office and residential assets, the company's recent sell-offs seem to be a good opportunity to make money from its core business.
In the next article, we'll see how Essex Property maintains its occupancy levels through development and redevelopment.