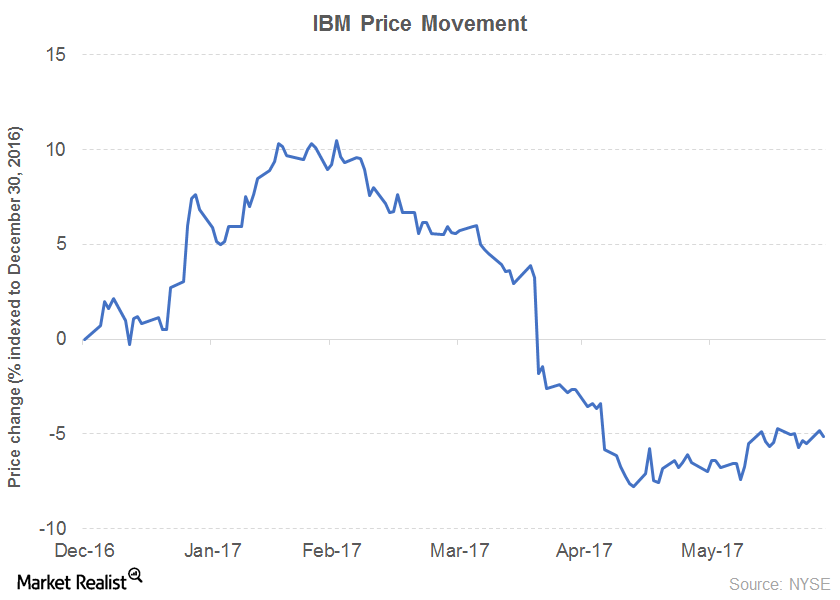 IBM's Dividend Growth Curve
Diversified computer systems
We'll look at IBM and Seagate Technology in this part of the series. For IBM (IBM), 1Q17 marked the 22nd year of annual dividend growth despite being the 20th successive quarter with no revenue growth. This was driven by a decline in all segments with the exception of Cognitive Solutions.
IBM's EPS (earnings per share) performance in 1Q16 and 2015 overshadowed its 1Q17 and 2016 performance. Its free cash flow for 1Q17 recorded a YoY (year-over-year) decline due to a decrease in operating cash flow, which was offset by a decline in capex. IBM's free cash flow recorded a minor decline in 2016, driven by a slight decline in operating cash flow.
Article continues below advertisement
IBM's dividend growth
IBM (IBM) recorded three-year and five-year annualized growth of ~14%, and it grew 10% in 2016. The diversified computer services company is trading at a discount of 40% to its sector average PE (price-to-earnings) multiple. It has a dividend yield equivalent to 140% of the sector average dividend yield. IBM had a payout ratio of 44.1% for 2016 and 46.1% on a trailing-12-month (or TTM) basis.
IBM's stock price has fallen 5.1% on a YTD (year-to-date) basis, and its price fell 0.3% on June 27. The recently acquired TIMETOACT GROUP's digital workplace hub, XCC (a web content and custom apps extension), is expected to become a part of the IBM Connections Cloud platform. The acquisition of software developer Agile 3 Solutions is intended to tackle risk related to the protection of sensitive data.
The WisdomTree US Quality Dividend Growth ETF (DGRW) is valued at a PE multiple of 19x and offers an annual dividend yield of ~3%. The iShares Core High Dividend ETF (HDV) is valued at a PE multiple of 20x and offers an annual dividend yield of 3%.
Seagate Technology
Seagate Technology (STX) recorded YoY growth in its revenues only in fiscal 3Q17 out of the first three quarters of its fiscal year. Seagate Technology, which ends its fiscal year in July, recorded EPS growth for fiscal 1Q17, 2Q17, and 3Q17 following growth in its operating income. Seagate's stronger fiscal 2015 performance overshadowed its revenue and EPS performance for fiscal 2016.
Seagate Technology recorded free cash flow growth in fiscal 2Q17 and 3Q17 after a YoY decline in fiscal 2016. This growth was driven by higher operating cash flow and lower capex. We'll discuss Seagate Technology's dividend growth in the final part of this series.