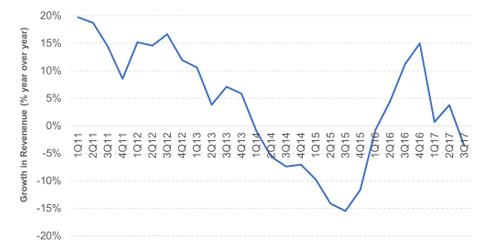 Coach's Comeback Story and Strategy Change
By Sonya Bells

Updated
Talking about Coach's change in strategy
Coach (COH) was a struggling brand with tumbling sales, deteriorating market share, and contracting margins until three years ago. Rising competition from newer players like Michael Kors (KORS), Kate Spade (KATE), and Tory Burch peeled away its customers, resulting in an increase in promotions and eventually weakening the Coach brand.
In 2014, Coach decided to change its strategy in an effort to improve its brand perception, redirecting its focus to quality rather than quantity. This involved closing unprofitable stores, exiting hundreds of department stores, reducing promotion days, introducing a new range of products, and acquiring high-end footwear player Stuart Weitzman.
The strategy initially caused Coach's top line to fall 5% and 13% in fiscal 2014 and fiscal 2015, respectively. Its earnings per share fell sharply, dropping 17% and 38%, respectively, during the two years. Notably, North America sales were down 15% and 17%, respectively.
Article continues below advertisement
The current scenario
Coach's disciplined strategy eventually started to pay off. The company reported positive comps in North America for the first time in three years during 4Q16. Its comps have remained positive since then, and the company has already seen four consecutive quarters of comparable sales growth in its domestic territory.
In May 2017, Coach announced the acquisition of Kate Spade (KATE) for $2.4 billion. This acquisition shows the strength that the company has regained over the last couple of years.
However, Coach's strategy is a work in progress. Coach pulled out of 250 department stores in the US during its last reported quarter (fiscal 3Q17), reducing the department store count by ~25% during the current year.
Investors seeking broad-based exposure to Coach can consider the First Trust RBA Quality Income ETF (QINC). Coach has a weight of 2.6% in QINC.
Read the next section to learn about Coach's current valuations and near-term earnings potential.