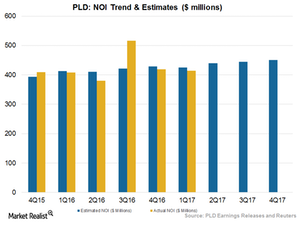 Can Prologis's Cost Reductions Drive Net Operating Income Higher?
Prologis: 2Q17 as expected
According to Wall Street analysts, Prologis (PLD) is expected to report NOI (net operating income) of $440.2 million in 2Q17. It's scheduled to release its earnings on July 18, 2017. NOI during the quarter is expected to rise 15.6% year-over-year. Its NOI margin is expected to inflate 150 bps (basis points) to 71.2% during the quarter.
The upswing in its margin is driven by an increase in its releasing spread as well as higher occupancy. Prologis is expected to witness higher margins in the United States since the region is expected to report a surge in occupancy, led by the macroeconomic transition that the country is currently undergoing.
Article continues below advertisement
Expenses expected to be higher
Prologis also expects promotional expenses to be higher for the second quarter due to the number of development projects undertaken by the company in 1Q17. For the second quarter, management expects to report a net promotional expense of $0.13–$0.15. The balance of the expense is expected to spread out over the year.
Optimization of portfolio
Prologis has embarked on several strategic dispositions in order to streamline its properties in an attempt to optimize profits. The company is selling its non-core businesses to focus more on its core ventures. In the first quarter of 2017, Prologis sold its European logistics venture, which generated $84.0 million for the company. These steps to rationalize its portfolio and get away with underperforming assets are expected to help Prologis generate higher profits in the quarter to be reported. The company has brought down its funds from 20 in 2012 to ten in 2016.
Article continues below advertisement
Enhanced guidance for 2017
Prologis is confident about carrying on its business momentum and generating higher profits in the upcoming months. It raised its same-store NOI growth for fiscal 2017 to 4.5%–5.3% compared to its previous expected range of 4.0%–5.0%. Wall Street expects Prologis to report NOI of $1.7 billion, an 8.0% rise year-over-year.
1Q17 performance
Prologis reported same-store NOI growth of 7.1% compared to 6.0% in 1Q16. The increase was led by growth of 8.0% in the United States.
Wall Street expects Prologis's close competitors such as Duke Realty (DRE), Kilroy Realty (KRC), and Boston Properties (BXP) to report revenue of $127.0 million, $147.8 million, and $404.0 million, respectively.
Prologis and its above-mentioned peers together constitute 14.1% of the iShares Cohen & Steers REIT (ICF). ICF's wide product diversity allows investors a cushion against macro headwinds.