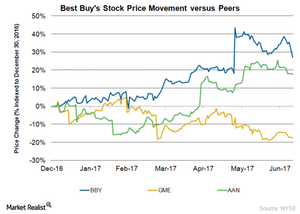 Best Buy Stock Falls: Amazon's Competing with Geek Squad
BBY stock falls
Best Buy (BBY) stock fell 6.3% on July 10, 2017, in reaction to a news article by Recode about Amazon's (AMZN) quiet rollout of a new service that will compete with Best Buy's Geek Squad. Amazon's Smart Home Services offers customers consultation on smart home devices and help with installation. Geek Squad is one of Best Buy's key strengths. It provides product installation, repairs, and other support services to its customers for a variety of electronic products.
Article continues below advertisement
YTD movement
As of July 10, 2017, Best Buy stock has risen 27.1% on a YTD (year-to-date) basis. That's higher than its specialty retail peers GameStop (GME) and Aaron's (AAN). As of July 10, GameStop has fallen 17.3%, and Aaron's has risen 17.9% YTD.
Best Buy has also outperformed the S&P 500 Index, which has risen 8.4% since the start of the year. Best Buy stock received a major boost on May 25, 2017, the day it announced its fiscal 1Q18 results. The stock rose 21.5% that day as the company surpassed analysts' revenue and earnings expectations for the quarter, which ended on April 29, 2017. Best Buy's strong performance came amid a tough retail environment that's seeing online retailers such as Amazon grow from strong to stronger.
Best Buy has been taking several measures to strengthen its online business. In fiscal 1Q18, its Domestic segment saw a 22.5% rise in comparable online sales, driven by higher conversion and improved traffic. Online revenue accounted for about 13.0% of the company's Domestic revenue that quarter compared to 10.6% in fiscal 1Q17.
However, Amazon is also boosting its consumer electronics business by enhancing its product offerings. Its new Smart Home Services will no doubt help Amazon strengthen sales of its smart-home devices, which is a growing consumer electronics category.
In the next part of this series, we'll see what analysts expect from Best Buy's top line this year.