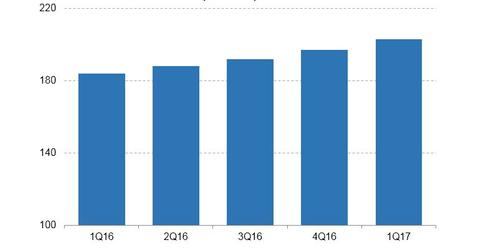 A Look at PayPal's Notable Achievements
By Neha Gupta

Updated
From product vendor to payment platform
PayPal's (PYPL) management believes the company has made tremendous progress over the last year. The company's executives spoke at a shareholder meeting and a Sanford C. Bernstein & Co. industry conference in June. PayPal's management outlined three notable achievements by the company during the last year.
PayPal's president and CEO, Daniel Schulman, discussed the significant improvement in PayPal's value proposition over the last one-year period. He noted that PayPal had transformed itself from being a products company to being a platform. As a result, people are buying a suite of services rather than single products.
PayPal's ability to sell a suite of products is helping the company double the long-term value of its customers, reducing its churn rate ~50.0%.
Article continues below advertisement
PayPal has turned rivals into partners
Schulman noted that the company has transformed rivals such as Visa (V) and Mastercard (MA) into partners. Partnering with Visa and MasterCard is contributing to PayPal's value proposition, as it is able to simplify transactions for its customers.
Working closely with card networks such as Visa is also viewed as an advantage for PayPal to tackle competition from Apple (AAPL) and Square (SQ) in supporting point-of-sale checkouts.
Strong customer acquisition metrics
Schulman highlighted the improvement in customer acquisitions as another notable achievement PayPal has attained in the last 12 months. PayPal concluded 1Q17 with ~203 million active registered accounts, up from 197 million in 4Q16 and 184 million a year earlier, as shown in the chart above.