A Close Look at Amazon's Lending Business
More than 20,000 business beneficiaries Amazon (AMZN) has disbursed more than $1.0 billion in small business loans in the past 12 months, implying that the company has supplied about $2.5 billion in loans to sellers on its marketplace since it launched its credit business in 2011. These loans, in the range of $1,000 to $750,000, […]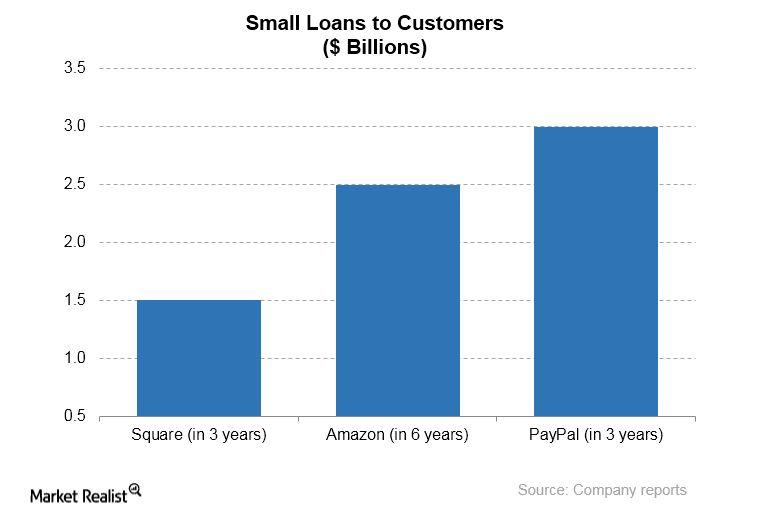 More than 20,000 business beneficiaries
Amazon (AMZN) has disbursed more than $1.0 billion in small business loans in the past 12 months, implying that the company has supplied about $2.5 billion in loans to sellers on its marketplace since it launched its credit business in 2011. These loans, in the range of $1,000 to $750,000, have gone to more than 20,000 sellers in the United States (SPY), the United Kingdom (EWU), and Japan (EWJ).
Given the escalating e-commerce competition, the lending business that started as a side operation could play a more central role in keeping Amazon a competitive e-commerce player. While the obvious benefit of the credit business is that it generates interest income for Amazon, the effects of the lending operation run deeper.
Article continues below advertisement
Article continues below advertisement
Boost to commission revenue
When sellers use a loan to increase inventory and discount items, they can sell more through Amazon. More sales mean more commission revenue for Amazon because it takes a cut of sales by merchants on its marketplace.
Boost to customer loyalty
The credit business also helps build a loyal base of customers—both merchants and shoppers. Shoppers return to Amazon because they can expect discounts on the items they purchase. Merchants want to maintain a strong presence on Amazon because it can help them qualify for cheap loans to grow their businesses. Amazon says the interest it charges on its loans is lower than alternatives such as credit cards.
Alternative lending market is becoming crowded
As a source of direct revenue, alternative lending can be a tough business. Alternative lending marketing is a crowded scene, featuring the likes of Square (SQ), PayPal (PYPL), and LendingClub (CL). In such a competitive market, margins can be thin. Additionally, as much as Amazon uses data to determine who qualifies for its loans, the credit business is never devoid of risks. The above chart shows the loans Amazon, PayPal, and Square have supplied their merchant customers.