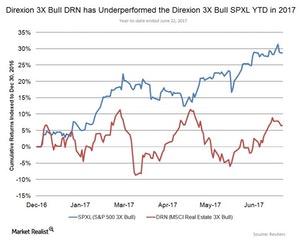 Will the Real Estate Sector Shine Thrive this Summer?
Direxion
Shopping for a house
Another important summer activity is shopping for a new home. Realtors often talk of curb appeal, and there's no better time than summer. You can show off blooming flowers and a nice green (not brown) lawn, and no one has to risk frostbite to check out a potential new home. This year so far, real estate has done just okay with returns just above 5% for the year, but most real estate stocks pay a nice dividend to augment that return. Also, remember that this category includes other real estate categories besides single-family homes—like malls, which have been hit hard. So this category is a little less black and white.
Article continues below advertisement
Over the last nine years (ten years not available), June has been strong at +3.8% with July and August cooling down a bit at -0.8% and -0.6%. This is another tricky sector that could break either way (or both). Luckily, Direxion has you covered both ways again with the DRN (3X Bull) and DRV (3X Bear) Real Estate ETFs.
Some sectors tan while some sectors burn
Summer lets you take it easy in the sun, take long road trips, blast the AC, yell at the construction work in your neighborhood, and shop for a new retreat—but it doesn't let you relax from an investment perspective! The categories we looked are in the midst of bigger cycles, affected by weather and by OPEC. To stay sharp, let Direxion's directional ETFs help make your summertime investing seamless and profitable.
Article continues below advertisement
Market Realist
How has real estate performed this year?
As of June 22, the real estate sector has underperformed the S&P 500 (SPY)(SPX-Index) year-to-date (or YTD). The Real Estate Select Sector Index, as tracked by the Real Estate Select Sector SPDR ETF (XLRE), has risen 5%, compared to a 14% rise for the S&P 500. As the chart above shows, the MSCI Real Estate 3X Bull ETF (DRN) has also underperformed, gaining just 6%, compared to a 29% gain for the S&P 500 3X Bull (SPXL) YTD.
Over the last nine years, empirical data from Direxion have shown that the average summer performance for real estate stands at 0.8%. In April, the White House released the first draft of President Trump's promised tax cut reforms. The draft confirmed the president's intention to preserve the home mortgage interest deduction. It also specified the doubling of standard deductions, which should benefit homeowners, buyers, and the real estate industry in general.
Article continues below advertisement
While this news pleased buyers, real estate agents and homebuilders weren't too happy. According to a Forbes report, the National Association of Home Builders' chairman, Granger MacDonald, mentioned that doubling of the standard deductions "could severely marginalize the mortgage interest deduction." This change would ultimately lead to a decline in housing demand as well as lower home values. How this new reform could affect the real estate sector's performance is something to watch out for.
A report published by Deloitte, "2017 Commercial Real Estate Outlook," stated that any further rate hikes this year could also increase mortgage costs and could put off real estate investment to an extent.
The summer performance of the sectors we discussed in this series depends not only on the weather but also on other factors—including regulatory changes by the new administration, OPEC decisions, job reports, economic growth, and Fed rate hikes. Before making any investment decisions, investors need to carefully weigh these factors and see how they could drive returns in these sectors and the S&P 500. As we've seen in this series, Direxion offers investors a wide range of leveraged ETFs to consider.