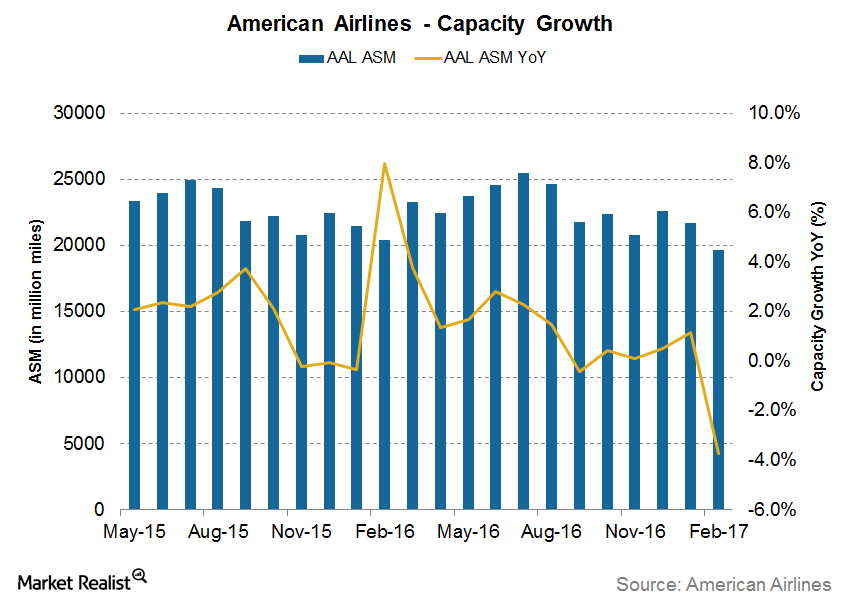 Will American Follow United Continental in High Capacity Growth?
American Airlines' capacity
For May 2017, American Airlines (AAL) reported 2.3% YoY (year-over-year) growth in capacity—its highest growth so far in 2017. Its capacity grew 1.2% YoY in January 2017, followed by a 3.7% YoY decline in February and a 0.9% YoY decline in March. It grew 1.8% YoY in April, which resulted in flat capacity growth on a YTD (year-to-date) basis as of May 2017.
Article continues below advertisement
International capacity
American's May 2017 international capacity rose 7.3% YoY on high growth in the Pacific region, which grew 22.3% YoY. Its Latin America capacity grew 4.7% YoY, and its the Atlantic region capacity grew 4.1% YoY.
This strategy of increasing international capacity is a response to increasing competition. In 2016, Southwest Airlines (LUV) was adding routes on AAL's major hubs, and recently, UAL announced a plan to increase its domestic capacity at a rate much faster than was previously expected.
Outlook
AAL's sudden spike in capacity growth in May could be an isolated move, however, as the company has not yet increased its capacity guidance for fiscal 2017. It expects its capacity to grow 1.5% YoY, and while its domestic capacity is expected to remain flat, its international capacity is expected to grow 4% YoY.
Notably, investors can gain exposure to American Airlines by investing in the PowerShares Dynamic Large Cap Value Portfolio (PWV), which has 1.5% of its total portfolio in AAL.