Why the Apple-Qualcomm Licensing Dispute Is Turning Nasty
In 2017, Apple sued Qualcomm for unfair licensing practices, accusing it of charging unfair royalties for "technologies they have nothing to do with."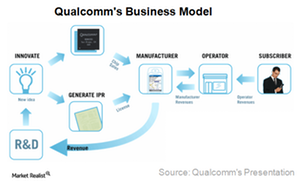 Apple and Qualcomm: Legal battle over licensing
In the previous parts of this series, we saw that Apple (AAPL) plans to introduce several new features in its upcoming iPhone 8, which would make the device more expensive. Launching an expensive device in an environment where competitors such as Samsung (SSNLF) and Essential are running head-to-head is a bit risky, but Apple's strong consumer loyalty helps it remain stable.
The rising cost of manufacturing the iPhone saw Apple go harsh on its suppliers in 2016, squeezing out their margins. In 2017, it went a step further and sued Qualcomm (QCOM) for what it called unfair licensing practices. Apple accused Qualcomm of charging unfair royalties for "technologies they have nothing to do with."
Apple's lawsuit came at a time when Qualcomm was facing lawsuits from US and South Korean regulators for its anti-competitive patent licensing practices. Samsung and Intel (INTC) also supported the US regulator.
Article continues below advertisement
Article continues below advertisement
Qualcomm then accused Apple of planning a combined legal attack with multiple regulators. However, the lawsuit took a nasty turn when Apple withheld royalty payments to its contract manufacturers who, in turn, pay that amount to Qualcomm. Apple said it would withhold royalty payments until the court ruled on its case since the dispute was over royalty amounts charged.
That ignited another round of arguments between Qualcomm and contract manufacturers. That's because Qualcomm earns licensing revenue from contract manufacturers and not directly from Apple. Hence, the chip supplier cannot sue Apple directly.
Qualcomm pulls Apple's contract manufacturers into the legal battle
Qualcomm has filed a lawsuit against Apple's four Taiwanese (EWT) contract manufacturers—Foxconn, Pegatron, Wistron, and Compal—for "breaching their license agreements" by not paying royalties for using its technology. The chipmaker has requested an injunction forcing these manufacturers to continue paying royalties during the term of its lawsuit with Apple.
Qualcomm is also reportedly trying to get the ITC (International Trade Commission) to ban the import of iPhones into the United States.
Apple is encouraging contract manufacturers to postpone their licensing payments until the lawsuit is settled, and Qualcomm is looking to enforce its contracts. Next, let's look at Qualcomm's arguments against Apple.