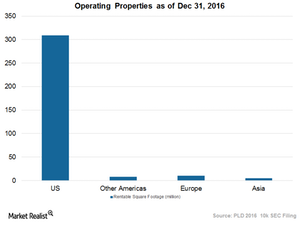 Why Prologis's Business Model Promises Consistent Profitability
Management confident in future profit pool
Analysts expect Prologis (PLD) to overcome the ongoing macroeconomic jitters and continue its growth trajectory. The company is expected to achieve a growth rate of 6%, 5.8%, 9.1% and 8.7%, respectively, in AFFO (adjusted funds from operations) over the next four quarters.
Prologis's management has raised its guidance for 2017 in order to reflect the company's business momentum. It's expected to remain in a growth trajectory backed by the rising demand for warehousing facilities and logistic infrastructure, as more and more companies resort to specialized services like same-day deliveries and supply-chain consolidations.
Article continues below advertisement
Location as a growth catalyst
Prologis has its warehouses in busy industrial towns across the globe. Its distribution centers are located near airports, railway stations, highways, and seaports that provide easy logistics support to its distributional network.
At the same time, e-commerce trends and modernization of supply chains are the main drivers of the company's growth in developed countries like the US, the UK, and Japan. New affluent consumers and developing supply-chain systems by retailers in developing countries trigger demand for properties.
Geographical diversity
Prologis's worldwide presence ensures that it gets the benefit of the evolution of retail and supply chains from countries that are in different stages of development. As of December 31, 2016, Prologis owned properties across 676 million square feet in 20 countries, across four continents. The company is particularly benefiting from Europe as the market continues to develop in the region with favorable supply-demand conditions as well as record low vacancies—especially in the UK, Germany, and the Netherlands. Almost 100% of Prologis' starts in the region were of the "build-a-suit" variety.
In order to ensure geographical diversity, many REITs (real estate investment trusts) such as Prologis, Duke Realty (DRE), Kilroy Realty (KRC), and Boston Properties (BXP) are expanding into emerging markets. These four companies together make up 14.1% of the iShares Cohen & Steers REIT ETF (ICF).