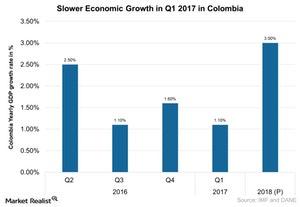 Why Colombia's Economic Growth Slowed in 1Q17
<p>Colombia&#8217;s (ICOL) GDP grew 1.1% year-over-year in 1Q17, lower than its 1.6% expansion in 1Q16. </p>
Colombia's economic woes
The third-largest economy in Latin America (ILF), Colombia (GXG) is growing at a slower pace in 2017 amid its external and domestic shocks. The Colombian conflict, which ended through the peace deal with the Revolutionary Armed Forces of Colombia (or FARC) in October 2016, resulted in reduced uncertainty in its economy in 1Q17.
The structural and economic reforms implemented by the Colombian government also helped the country's economic growth in 1Q17. The chart below shows Colombia's economic growth over the last year.
Article continues below advertisement
Article continues below advertisement
Economic growth in 1Q17
Colombia's (ICOL) GDP grew 1.1% year-over-year in 1Q17, lower than its 1.6% expansion in 1Q16. The Colombian economy underperformed market expectations of a 1.2% rise in 1Q17. Its output contracted in several sectors, including:
trade, repairs, and hotels and restaurants
transportation and communication
mining
construction
utilities
The country's growth also declined in its finance, insurance, real estate, and manufacturing sectors. Colombia's agriculture, hunting, forestry, and fishing sectors saw sharp increases in their activities. The country's social service sector also grew in 1Q17.
Issues of tax evasion
Colombia's economy currently faces a major administrative issue of tax evasion and illegality, resulting in a parallel underground economy. In October 2016, the country's government proposed a number of reforms to improve tax administration.
Colombia's government increased its VAT[1. value-added tax] rate from 16% to 19%, effective January 1, 2017. The increased taxes appear to have impacted the country's consumption levels in 1Q17, resulting in lower growth across the economy's sectors.
Improving consumer confidence
Consumer confidence in Colombia appears to be improving amid the reforms implemented by its government. The country's consumer confidence in April 2017 recorded the highest level since December 2016, reaching -12.8 compared to -21.1 in March 2017. Colombia's benchmark index, COLCAP, gained ~5% in May 2017.
Let's look at Argentina's economy in the final article of this series.