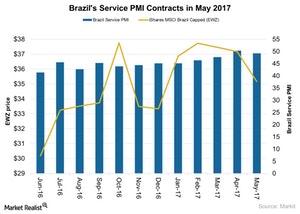 Why Brazil's Service Sector Activity Contracted in May 2017
Service sector activity in Brazil
Brazil's (EWZ) service sector performance in May 2017 declined as the service sector PMI fell below the critical mark of 50, indicating contraction. Activity in the service sector dropped in contrast to the manufacturing sector, which improved despite the recent political turbulence in Brazil (BRZU).
Costs in Brazil's (BZQ) service sector have been increasing in the last few years, mostly driven by a high tax burden and lagging productivity levels. These pressures could impact the performance of the service sector in Brazil in the next few years. The chart below illustrates the service PMI's trend over the last year.
Article continues below advertisement
Article continues below advertisement
Services sector PMI in May 2017
The Markit Brazil Services PMI dropped to 49.2 in May 2017 compared a two-year high of 50.3 in April 2017. The Markit Brazil Services PMI stayed below market expectations of 50.8 in May 2017. Its output dropped after increasing in April 2017 for the first time in the last year. New business grew at the slowest rate in the last four months through May 2017.
Employment also continued to contract, as business sentiment toward the next-12-month period showed continued weakness. This weakness was driven by political uncertainty and security concerns in Brazil (UBR). On the price front, input costs increased to a four-month high in May 2017 while output prices increased at a slower pace.
Service sector's contribution to GDP
The service sector is a significant contributor to Brazil's (FBZ) GDP growth and job creation. However, it is currently suffering from structural inefficiencies and weak international performance.
The service industry contributed ~66% to Brazil's GDP in 2015, compared to the industrial sector and the agricultural sector at 28.5% and 5.5%, respectively.