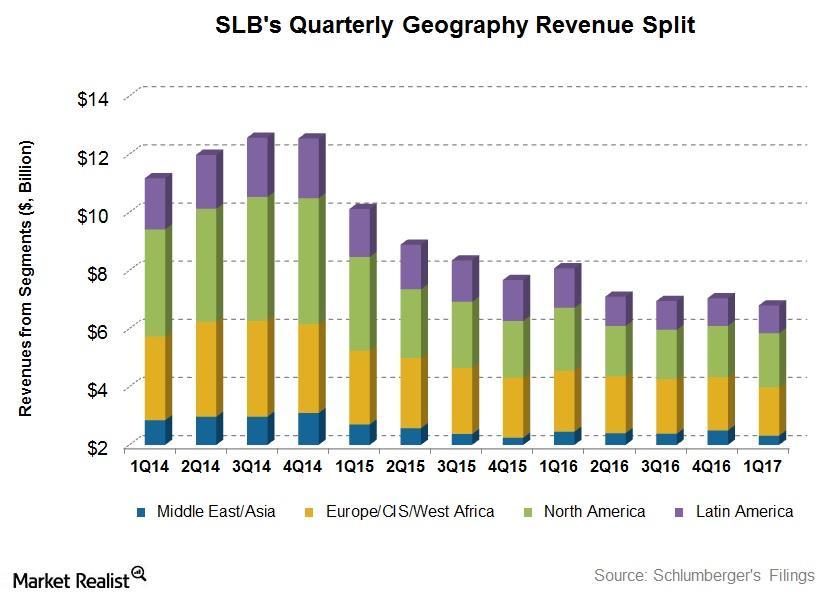 What Were Schlumberger's Drivers in 1Q17?
Schlumberger's 1Q17 revenue by geography
Schlumberger's (SLB) Latin America region witnessed the highest revenue decline (30% fall) in 1Q17—compared to 1Q16. Its Europe/CIS/West Africa revenue fell ~21%, while its North America revenue fell 14%. Schlumberger's revenue from the Middle East fell 6% from 1Q16 to 1Q17. Schlumberger accounts for 6.7% of the ProShares Ultra Oil & Gas ETF (DIG).
Article continues below advertisement
Article continues below advertisement
Segment margin analysis
Schlumberger's Reservoir Characterization segment's 1Q17 operating income margin fell to 17% from 19% last year. The Production segment's operating margin fell to 5% in 1Q17 from 9% in 1Q16. The Drilling segment's operating margin fell to 12% in 1Q17 from 15% in 1Q16.
Negative drivers
lower multiclient license sales in the WesternGeco unit
decline in offshore drilling activity
seasonal activity decline in the Northern Hemisphere
reduced project volume and product sales in Cameron Group
continuing pricing pressure on Schlumberger's new tender awards
Article continues below advertisement
Positive drivers
accelerated North America onshore drilling activity due to a 25% higher US rig count and higher stage count
higher pricing due to improved capacity utilization in North America
stronger OneSubsea activity in Brazil
What impacted Schlumberger's 1Q17 earnings?
In 1Q17, Schlumberger's reported net income was ~$279 million—a 44% fall compared to when Schlumberger reported $501 million in net income. However, its 1Q17 earnings improved compared to 4Q16 when Schlumberger recorded net loss of $204 million.
Net loss for Schlumberger's peers
In comparison, Superior Energy Services' (SPN) reported net loss was ~$90 million in 1Q17. In 1Q17, Fairmount Santrol Holdings' (FMSA) net loss was $11.4 million, while Flotek Industries' (FTK) net loss was ~$1 million.
So, how much does Schlumberger depend on North America? We'll discuss this in the next part.