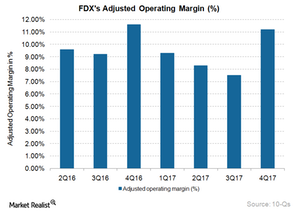 What Happened to FedEx's Fiscal 4Q17 Operating Margin?
FedEx's fiscal 4Q17 operating margin
FedEx's (FDX) operating margin was 11.2% on an adjusted basis in fiscal 4Q17, representing a 0.4% fall on a YoY (year-over-year) basis.
Note that FDX's revenue rose 21.2% YoY, and its total operating expenses rose 8.4% in fiscal 4Q17. In terms of operating expenses, its salaries rose 14.9%, and its purchased transportation expenses rose 40%. Even its fuel expenses rose 36.4% in fiscal 4Q17.
Article continues below advertisement
Segmental margin breakup
FedEx Express reported a record operating profit in fiscal 4Q17. The segment's operating margin was 12.7%, up from 11.3% in fiscal 4Q16. FedEx Express's margins improved on increased base rates and package volumes. Fuel benefits and cost curtailment initiatives also acted as catalysts for the segment's margin improvement.
FedEx Ground's operating margin in fiscal 4Q17 was 15%, slightly lower than it was in fiscal 4Q16. The Ground segment's operating profit rose on account of increased yields and volumes. However, these gains were somewhat offset by network expansion, employee costs, and higher self-insurance reserves. FedEx's Supply Chain segment, which is included in its Ground segment, has adversely impacted the Ground segment's margins.
FedEx Freight's operating margin narrowed 0.7% in fiscal 4Q17 to 7.8%, compared to 8.5% in fiscal 4Q16. The segment's operating results were marginally lower due to increased salaries and wages. Higher information technology expenses offset incremental base rate benefits, negatively impacting the segment's margins.
Article continues below advertisement
Segmental outlook
FDX expects better FedEx Express operating profits over the next three fiscal quarters. The company hopes to achieve $1.2 billion–$1.5 billion in operating income improvement in this segment by fiscal 2020.
In its Ground segment, FDX will launch a new technology to optimize its ground delivery options for SmartPost in fiscal 1Q18. The company plans to roll out its ISP (independent service provider) model in all 50 states. It also anticipates a complete transition to the ISP model by fiscal 2H20. These initiatives are expected to improve its segmental margins. FDX is eyeing a 15%–17% margin in its Ground segment.
ETF investment
Companies such as FDX and United Parcel Service (UPS) are included in the transportation and logistics sector, a subgroup of the industrial sector. Investors open to indirect investment in the industrial sector can consider the iShares US Industrials ETF (IYJ). General Electric (GE), 3M Company (MMM), and Boeing (BA) are the top holdings of IYJ.
Next, we'll dive into FedEx's capital expenditure and outlook in fiscal 2018.