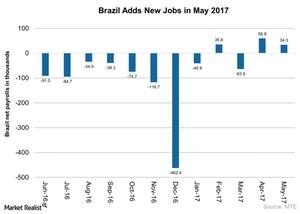 What Brazil's Job Growth in May 2017 Could Indicate for the Year
<p>The Brazilian (BRZU) economy added ~34,250 jobs in May 2017, making it the second consecutive month of job creation in 2017. </p>
Political climate in Brazil
Brazil's (BRZU) interim president, Michel Temer, has seen his popularity fall with the most recent allegations of corruption and scandals in the country. Most recently, Temer is alleged to be involved in accepting bribes from the country's largest meatpacking company, JBS, which have not been proven.
Temer's labor reforms are also highly unpopular among Brazilian people due to his efforts to change the labor-friendly pension system. The current system is fiscally loose and is proving to be unsustainable.
Article continues below advertisement
Article continues below advertisement
Recently, the Federal Senate rejected Temer's labor reforms, creating a huge setback as these reforms were intended to improve Brazil's fiscal stability. Amid the labor reform setbacks, the Brazilian (EWZ) (UBR) economy added jobs in May 2017. The chart above have a look at the net payrolls over the last year in the chart below.
Job additions in May 2017
The Brazilian (BRZU) economy added ~34,250 jobs in May 2017, making it the second consecutive month of job creation in 2017. The country's employment level increased sharply in the agricultural, services, industry, and public administration sectors. However, employment declined in the trade and construction sectors in May 2017.
The addition of jobs in May provides support when the employment situation has been deteriorating in Brazil (BRF) in 2017. The jobless rate at the end April 2017 increased to 13.6%.
Labor reforms
Labor market reforms are crucial for an economy like Brazil (BZQ), as these reforms can jumpstart its growth. Temer aims to improve the country's fiscal revenues through labor reforms in 2017. However, these reforms were rejected by the Federal Senate in June 2017.
In our next article, we'll look at the performance of the Brazilian real.