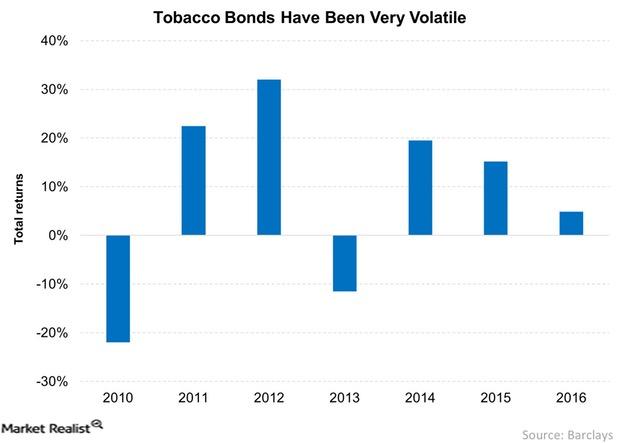 Do Tobacco Bonds Warrant a Place in Your Portfolio?
Article continues below advertisement
Article continues below advertisement
Understanding Tobacco Bonds is Complex and Requires Expertise
Unlike the tobacco companies themselves who do better as revenues increase, TSSBs only benefit if cigarette sales volumes increases, which seems a very remote prospect. In the short term, tobacco companies have been able to use higher prices to turn their financial fortunes around, even in the face of heavy taxes and increased regulation. On the other hand, the long term picture is far from rosy for TSSBs, whose reliance on cigarette sales volume is problematic in the context of continuing downward trends in cigarette sales. Thanks to their complex structures, many of which guarantee payments in perpetuity, TSSBs may continue to pay out to bondholders on an extended schedule, even if they go into technical default.
Understanding both tobacco bonds and the constructive role they can play in a high yield municipal bond portfolio is complex. As are the market forces to which they are subject. We believe professional management, knowledge, and experience in this sector of the municipal bond market are of paramount importance. VanEck offers these through its ETFs. Thereby providing investors with an attractive way to access this dynamic part of the market. The ETF structure is relatively low cost, flexible, transparent, and diversified.
Market Realist
As the above graph shows, tobacco bonds (HYD) have been very volatile over the last seven years. Falling MSA payments caused the volatility. As we discussed, tobacco bonds offer relatively good cash flow returns even in downside scenarios.
Also, if the Trump Administration cuts tax rates, municipal bonds (XMPT) (MUB), including tobacco bonds, would take a hit. Since they're exempt from taxes, municipal bonds will be less attractive when tax rates are cut.
However, higher inflation rates could support tobacco bonds. Inflation rates in the US are hovering close to the 2% mark.
While declining cigarette consumption has a negative impact on TSSBs, their perpetuity payment might make them interesting to investors.