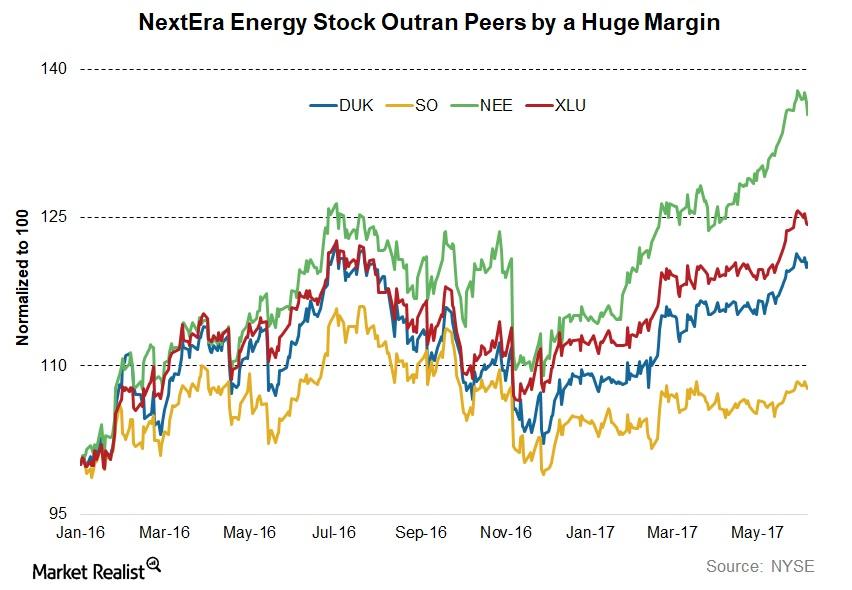 The Best Utility Stock out There: NEE, DUK, or SO?
Utility stocks recently
Utilities are generally known as high dividend-paying, steadily growing stocks that offer safety and fair returns over a period of time. In the past few years, utility stocks have given enormous returns and have largely followed broader markets. In this series, we'll consider three top utility stocks from the S&P 500 Utilities Index and try to measure their investment propositions.
The chart above gives the comparative stock price movements of Duke Energy (DUK), NextEra Energy (NEE), and Southern Company (SO) along with utilities (XLU).
Article continues below advertisement
Which is better positioned among top three utilities?
NextEra Energy is valued at $67 billion and is the largest among US utilities. It's also the fastest-growing utility with the highest dividend growth rate among the above three. Recently, regulators rejected NEE's Oncor acquisition as the deal was considered not to be in the public interest.
This was NextEra Energy's second failed attempt to acquire a utility, after regulators rejected its Hawaiian Electric (HE) deal last year. But the renewables giant may continue to look for acquisition targets in the future.
Duke and Southern
Duke Energy's business profile improved after it sold its relatively riskier and poor performing merchant power segment in Latin America. With this sale, Duke Energy now generates almost all of its revenues from regulated operations.
Southern Company is the smallest of these three by market capitalization. The Georgian utility right now appears to be having issues with its power plants. Its expanded gas operations after AGL Resources' acquisition might bode well for future earnings growth, however, and Southern Company has the highest dividend yield among peers.
In the next part, we'll compare these three utilities in greater detail.