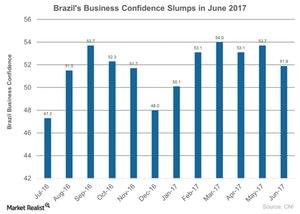 Political Unrest Impacts Brazil's Business Confidence in June 2017
<p>The Industrial Entrepreneur Confidence Index in Brazil (FBZ) dropped to 51.9 in June 2017 compared to 53.7 in May 2017, reaching its lowest level since January 2017.</p>
Brazil's political chaos
The political mayhem that has surged with accusations of corruption and bribery against Brazil's interim president, Michel Temer, has affected the confidence level in Brazil (EWZ) (UBR). Brazil's (BRZU) business confidence level in June is at its lowest level for the year, as people seem to be losing faith in its administration. The chart below illustrates Brazil's business confidence level over the last year.
Article continues below advertisement
Article continues below advertisement
Business confidence in June 2017
The Industrial Entrepreneur Confidence Index in Brazil (FBZ) dropped to 51.9 in June 2017 compared to 53.7 in May 2017, reaching its lowest level since January 2017. The decline in confidence levels was due to several factors.
Expectations for the future fell from 57.4 in May 2017 to 54.9 in June 2017.
Confidence in current conditions barely changed, with June's reading of 46.0 compared to 46.3 in May 2017.
Confidence in the construction sector deteriorated to 50.4 in June 2017 from 52.7 in the previous month.
Confidence in mining fell to 52.7 in June 2017 compared to 57.6 in May 2017.
Confidence in the manufacturing sector fell slightly to 52.3 in June 2017 compared to 53.8 in May 2017.
Business confidence in Brazil (BRF) has taken a hit in June 2017 as Temer was recently accused of taking bribes from a large meatpacking company, JBS. Temer's reforms aimed to restore the country's social security system and improve business confidence. In our view, the growing public pushback against Temer could delay these reforms in 2017.
Let's look at the manufacturing activity in Brazil in the next article.