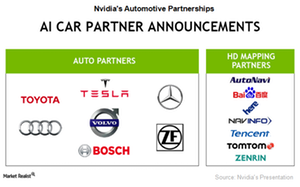 NVIDIA's Strategy to Boost the Adoption of Autonomous Cars
NVIDIA focuses on mid-tier cars and trucks 
In the previous part of this series, we saw that NVIDIA (NVDA) has yet to witness the inflection point in the automotive market. The company is leading the autonomous car market by partnering with several automakers, suppliers, and startups to develop its DRIVE PX2 AI (artificial intelligence) platform.
So far, NVIDIA has been partnering with luxury carmakers such as Audi, Tesla (TSLA), and BMW in their autonomous car projects. However, luxury car makers do not have the volume—only 4.1 million luxury cars were sold in 2016.
Article continues below advertisement
Article continues below advertisement
NVIDIA is partnering with auto suppliers like Bosch, truck companies like PACCAR, and mid-tier carmakers like Toyota (TM) to increase the adoption of AI car platforms. Toyota is the second-largest automaker in the world, and it sold over 10 million cars in 2016. In May 2017, NVIDIA partnered with Toyota to supply its DRIVE PX2 platforms for the latter's cars.
Unlike other carmakers, Toyota is not looking to build a new self-driving car platform with NVIDIA. Instead, it is looking to use the existing platform in its cars. Given the scale of Toyota's orders, NVIDIA's automotive revenues are set to witness exponential growth as soon as early fiscal 2019.
NVIDIA's advantage in the autonomous car industry
The Toyota deal would put NVIDIA ahead of Intel (INTC) and Samsung (SSNLF), which are striving hard to make an impression in the autonomous car space. Intel agreed to acquire Mobileye (MBLY) to accelerate its automotive efforts.
While NVIDIA's Gaming, Data Center, and Automotive segments are growing rapidly, its Professional Visualization segment is witnessing slow growth. We'll look into this in the next article.