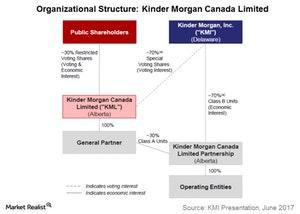 Must-Know: Kinder Morgan's Canada Segment's Structure
KMI's Canadian operations
After KML's IPO (initial public offering), Kinder Morgan would retain ownership of nearly 70% of KML, with the remaining 30% owned by the public. The chart above shows the current organizational structure.
Article continues below advertisement
In addition to the Trans Mountain pipeline, KML owns a network of crude tank storage and rail terminals in Western Canada, a mineral concentrate export-import facility on the West Coast of North America, and the Canadian portion of the Cochin pipeline system, which transports light condensate to Alberta.
Expected growth
According to Kinder Morgan, KML has the potential to more than triple its adjusted EBITDA[1. earnings before interest, tax, depreciation, and amortization] by 2020. The adjusted EBITDA from Canadian operations stood at $395 million Canadian for 2016. This EBITDA growth is expected to be primarily driven by the Trans Mountain expansion project.
Kinder Morgan plans to begin construction on the expansion project in September 2017, with an in-service date expected in late 2019. The project expands KMI's existing Trans Mountain Pipeline system between Edmonton, Alberta, and Burnaby, British Columbia. The expansion would create a twinned pipeline that would increase the capacity of the system from 300,000 barrels per day to 890,000 barrels per day.