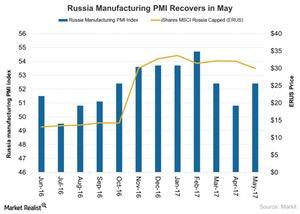 Is Russia's Manufacturing Activity Back on Track in May 2017?
Improving manufacturing activity in Russia
Russian (ERUS) manufacturing activity grew in May 2017 after a weaker performance in April 2017. The operating conditions improved in May 2017 at a solid pace as new orders increased, mainly driven by domestic demand.
The Russian manufacturing PMI climbed for nine consecutive months, remaining above the critical mark of 50 and suggesting expansion in the manufacturing sector. The chart below shows the Russian manufacturing PMI over the last year.
Article continues below advertisement
Russia manufacturing activity in May 2017
The Markit Russia manufacturing PMI increased to 52.4 in May 2017 compared to 50.8 in April 2017. The country's production advanced for 13 consecutive months through May 2017, with domestic markets driving the demand.
The increase in manufacturing PMI indicates strengthening operating conditions in the manufacturing sector in May 2017 compared to the previous month.
Manufacturing output in May 2017
Russian manufacturers (RUSL) reported a rise in both the number of orders and volumes, mainly due to new product launches and higher demand. However, new export orders have contracted since September 2013.
Employment also contracted for the third consecutive month in May 2017. Meanwhile, backlogs increased for May 2017 following a decline in the previous month.
Price pressures remained moderate as the output prices increased for the second consecutive month in May 2017. Input prices also increased in May, keeping up with the trend that began since 2009.
Outlook
The Russian manufacturers' outlook remained positive in May 2017 on the backdrop of rising demand, new product development, and increased new orders. The iShares MSCI Russia Capped ETF (ERUS), which tracks Russian equities, has dropped ~10% so far in 2017 through June 9, 2017.
The recent slump in oil prices (USO) (UCO) and continued Western sanctions from the US (SPY), the UK (EWU), and Europe (VGK) have affected Russia's market performance.
In the final article of this series, we'll look at manufacturing activity in Mexico in May 2017.