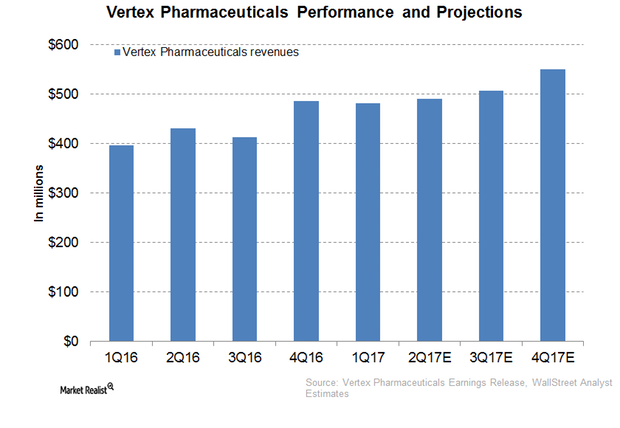 Inside Vertex Pharmaceuticals' Revenue Trend
Vertex Pharmaceuticals
In 2016, Vertex Pharmaceuticals (VRTX) reported revenues of around ~$1.7 billion, which reflected a whopping 65% YoY (year-over-year) growth. Orkambi contributed around 58% of the company's total revenue and turned out to be the primary driver for high revenue growth in 2016.
In 1Q17, Vertex generated revenues of around $481 million, which reflected 22% YoY revenue growth. The company expects total revenue in fiscal 2017 from its cystic fibrosis franchise to be in the range of $1.81 billion–$2.03 billion.
Article continues below advertisement
Article continues below advertisement
1Q17 expenditure trends
Vertex reported non-GAAP (generally accepted accounting principles) combined SG&A (selling, general, and administrative) and R&D (research and development) expenses of around $313 million.
In fiscal 2017, the company expects non-GAAP combined SG&A and R&D expenses to be in the range of $1.25 billion–$1.30 billion. In 1Q17, the company achieved $101 million in non-GAAP net profit.
Major driving factor for 2017
The company is trying to gain reimbursement agreements for Orkambi in multiple countries, especially in Europe. In December 2016, the company succeeded in securing reimbursement for Orkambi in Germany. This could substantially contribute to revenue growth in 2017. If the company succeeds in gaining reimbursement for Orkambi in France, the drug's revenue could witness high growth.
Vertex's competitors
Vertex is primarily focused on the development of effective drugs for cystic fibrosis. Peer AbbVie (ABBV) is conducting a phase-2 clinical trial with its novel drug ABBV-2222 and phase-1 trial with ABBV-2451, ABBV-2731, and ABBV-3067 for the treatment of cystic fibrosis. Vertex could also face stiff competition in the cystic fibrosis drug market from Novartis (NVS), Sanofi (SNY), and Pfizer, among others.
Notably, the iShares Nasdaq Biotechnology ETF (IBB) has ~5.2% of its total portfolio holdings in VRTX.