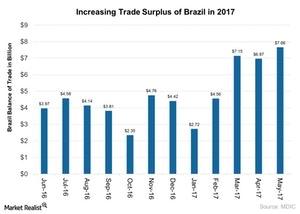 Improved Global Demand Boosted Brazil's Trade Surplus in May 2017
Brazil's political woes
Brazil's (EWZ) political situation seems to be overshadowing the improvements in several macroeconomic factors, including its trade balance. The trade balance posted another large surplus in May 2017, surpassing the previous month's record. The chart below illustrates the country's trade balance trends.
Article continues below advertisement
Article continues below advertisement
Trade balance in May 2017
Brazil (BRZU) (UBR) posted a $7.6 billion trade surplus in May 2017, an ~9% increase compared to its $6.9 billion surplus in April and in line with market expectations. This was the highest surplus recorded, mostly driven by a record soy harvest.
Brazil's (BRAQ) trade surplus expanded to $29 billion for the first five months of 2017, the highest on record for the same period.
Improved demand conditions
Brazil's exports stood at $19.7 billion in May 2017, a 12.6% increase year-over-year, boosted by sales of semi-manufactured products and basic products. In contrast, shipments of manufactured products fell ~1.2% in May 2017.
Brazil's exports in May 2017 grew to Central America and the Caribbean, Africa, the US, the Middle East, Mercosur,[1. a sub-regional trading bloc] and Asia. However, the country's imports stood at $12.1 billion in May 2017, representing a slower increase of 9% in May 2017 compared to the same period in 2016. Purchases increased for fuels and lubricants, consumer goods, and intermediate goods, but they fell for capital goods.
Commodity prices in 2017
The higher prices in 1Q17 for commodities (DBC) like iron ore, oil, and soy helped increase these exports in value terms in the first five months of 2017. The rise in prices for manufactured products like cargo vehicles and automobiles also drove the increase in sales value. However, commodity prices since the beginning of 2Q17 have been declining, which could impact Brazil's trade balance in 2Q17.
Iron ore, one of Brazil's largest export products, experienced an ~27% price cut in 2017 through May. This trend could impact the Brazilian markets, which rely heavily on its exports. The iShares MSCI Brazil Capped ETF (EWZ) fell ~5% in May 2017.
In our next article, we'll look at the performance of Brazilian equities.