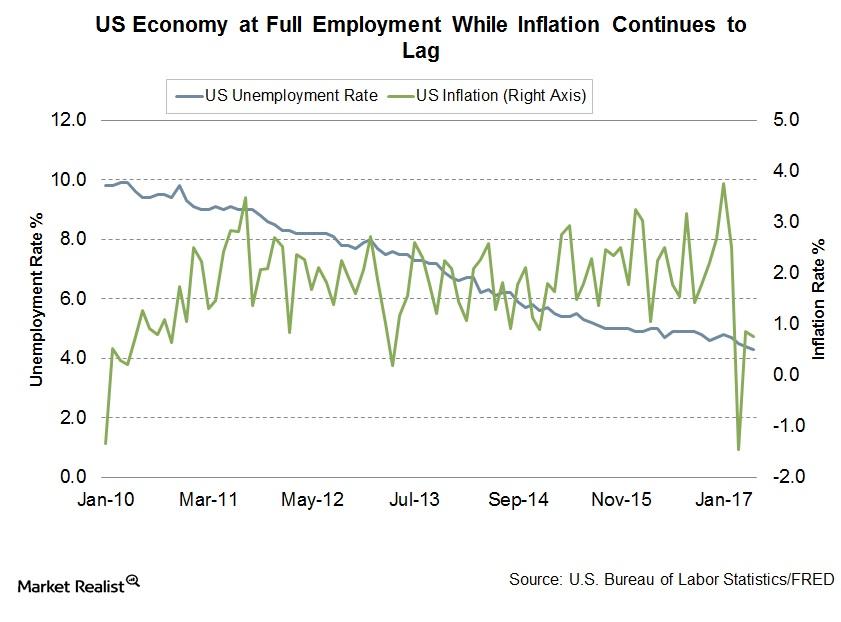 How the Federal Reserve Contributes to a Flattening Yield Curve
Are US interest rates rising too quickly?
The Federal Reserve started tightening US monetary policy as the country's economic conditions showed improvement. The US unemployment rate is close to the desired 4.5%, and inflation has moved closer to the Fed's target rate of 2.0%.
The US Federal Reserve has increased interest rates five times since the first rate hike in December 2015. In the Federal Open Market Committee's recent policy statement, the Fed hinted at the possibility of another rate hike this year, followed by three more rate hikes in 2018.
Article continues below advertisement
Article continues below advertisement
Bond market reaction to Fed hikes
These aggressive rate hikes from the Fed are having a major impact on short-term bond (SCHO) yields as the current Fed funds rate started to increase from the 0% interest rate level. Longer-dated bond (TLO) yields remained lower as inflation and economic growth also stayed low in the last few months.
The Fed has characterized this slowdown as transitory, but bond investors remain skeptical about this view.
How the Fed contributed to the flattening yield curve
Since the US presidential election in November 2016, markets have been focusing on the Trump administration and have been eagerly waiting for the proposed tax and fiscal spending reforms. With Trump's trade policies under the microscope, investors—especially in the bond market—are focusing on the Fed's policies, inflation, and growth expectations for the US.
The hawkish Federal Reserve, despite the slowdown in inflation (TIP) and economic growth, is signaling further rate hikes. As a result, the Fed appears to be impacting shorter-dated yields (VGSH) as they rise faster than long-term yields (EDV). The more the Fed signals its hawkishness, the greater are the chances for a flatter yield curve.
In the final part of this series, we'll analyze whether a flattening yield curve could indicate another recession.