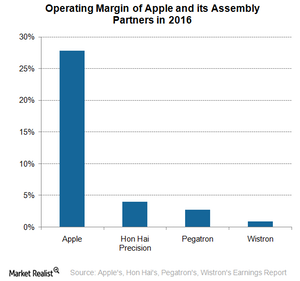 How Might Apple's iPhone 8 Impact Foxconn?
Foxconn's dependence on Apple
Apple's (AAPL) component suppliers are having a hard time as Apple adopts a dual-sourcing strategy and brings most chip designing in-house. However, Apple's Taiwanese (EWT) manufacturer, Hon Hai Precision Industry, also known as Foxconn, is expected to be a major beneficiary of the iPhone 8 super-cycle.
Foxconn earns more than 50.0% of its revenue from assembling iPhones. So its revenue moves in the same direction as iPhone sales. In fiscal 2016, Foxconn's revenue fell 19.0% YoY (year-over-year) as Apple's sales fell 7.7% YoY.
Assembly partners operate on a thin margin because of Apple's high negotiation power. Foxconn, Pegatron, and Wistron operate at a margin of less than 5.0%, whereas Apple operates at a margin of more than 25.0%.
Article continues below advertisement
Foxconn diversifies to reduce dependence on iPhone
In an interview with CNBC, JPMorgan's head of Taiwan equity research, Gokul Hariharan, discussed the impact of Apple on Foxconn. He said that Foxconn's vertically integrated business model and its ability to manufacture large volumes at a lower cost may protect it from a slowdown in the demand for iPhones in the long term.
Foxconn started off by assembling desktops in the mid-to-late 1990s. With time, it moved to assembling game consoles, feature phones for Motorola and Nokia (NOK), music players, and finally smartphones for Apple. Hariharan said that Foxconn later moved vertically in the supply chain by manufacturing components for the products it assembles. That increased the value of the product in terms of dollar content for Foxconn.
Foxconn adds more smartphone components in its offerings
In 2016, Foxconn acquired Sharp for $3.8 billion, which gave it access to smartphone's two major components: camera modules and display, which are upgraded with each next generation. According to Hariharan, the display is the most expensive component in a smartphone. A report by Nikkei stated that Foxconn and Sharp are considering building an OLED (Organic Light Emitting Diode) display plant in China.
A Bloomberg report stated that Foxconn and Sharp have jointly bid for Toshiba's (TOSBF) NAND (not AND) flash business. With this, said Hariharan, Foxconn is looking to increase its dollar content in server and storage products, which account for 20.0%–25.0% of its revenue.
Apple's dependence on Foxconn
Hariharan believes that Foxconn will solely assemble Apple's most expensive model, the iPhone 8, because of its many years of experience and its ability to manufacture large volumes at reduced costs. The iPhone 8 is expected to have several new features such as the OLED display, 3D (three-dimensional) sensing, front and back glass casing, and wireless charging.
Foxconn has the ability to manufacture a large number of smartphone components, making it an ideal assembler for the iPhone 8. However, KGI Securities analyst Ming-Chi Kuo expects volume production of the iPhone 8 to be delayed due to "major hardware upgrades."
However, the iPhone 7s and iPhone 7s Plus are likely to launch on time. They're expected to be manufactured by assembly partners Pegatron and Wistron. We'll take a look at these manufacturers in the next part.