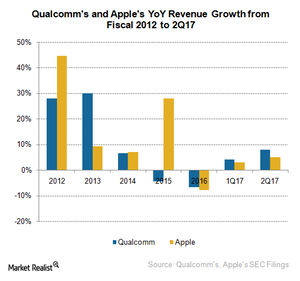 How Contract Manufacturers Got Involved in Qualcomm-Apple Dispute
Contract manufacturers become the bait in Qualcomm-Apple dispute
In the previous part of this series, we saw that Qualcomm (QCOM) has filed a lawsuit against Apple's (AAPL) Taiwanese (EWT) CMs (contract manufacturers)—Foxconn, Pegatron, Wistron, and Compal—for failing to pay royalties for using its technology.
Qualcomm, in its preliminary injunction, argued that until the court rules or a settlement is reached, the manufacturers and Apple are responsible for paying their royalties according to their licensing agreements with the chip supplier. Any non-payment is a violation of the agreement. Apple has agreed to indemnify its CMs for damages arising from the violation of their agreements.
In his prepared remarks for the injunction request, Qualcomm's general counsel Donald J. Rosenberg said, "We cannot allow these manufacturers and Apple to use our valuable intellectual property without paying the fair and reasonable royalties to which they have agreed."
Article continues below advertisement
Article continues below advertisement
The CMs don't intend to withhold royalty payments, but they aren't getting the cash from Apple. If the CMs pay the royalties, they could face a loss since they already operate with thin margins. The CMs have ended up in the middle of the dispute between Apple and Qualcomm, which are both using the CMs to put pressure on each other to settle the lawsuit.
BMO Capital analyst Tim Long believes that Qualcomm has a higher chance of getting an injunction since the licensing agreements with the four Taiwanese CMs are valid and enforceable.
Impact on Qualcomm
Earlier in 2017, Qualcomm warned that its licensing business and overall earnings would be adversely impacted if the current lawsuit forces it to change its licensing practices. Qualcomm earns more than 80.0% of its operating profits from its licensing business. It earns around 12.0% of its revenue from Apple.
Apple's recent act of withholding $1.0 billion in royalty payments to the CMs saw Qualcomm cut its fiscal 3Q17 revenue guidance by $500.0 million. If the CMs continue to not pay royalties, Qualcomm's licensing revenue could fall as much as 33.0% in fiscal 2017. This could later cause "irreparable damage" to Qualcomm's earnings and business.
Qualcomm describes Apple's interference an act to force a settlement 
Qualcomm claims that Apple's interference in its licensing agreements with the CMs is the handset maker's attempt to "starve" Qualcomm of royalties and force it to settle the lawsuit. The chipmaker stated that Apple knows it can't win in court. So it's making it difficult for Qualcomm to bear the litigation by withholding billions of dollars in royalties for the indefinite future.
According to Qualcomm, Apple's conduct indicates that the company "is an unwilling licensee." Apple is facing another licensing dispute with Imagination Technologies. We'll look at that next.