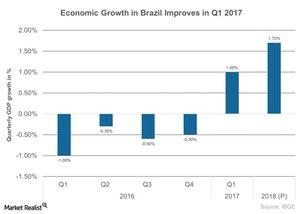 Has Brazil's GDP Risen despite Political Uncertainty in 1Q17?
Political chaos in Brazil
Brazil's economy (BZQ) is currently struggling to absorb the corruption scandal that implicated interim President Michel Temer in May 2017. However, the country's electoral court has dismissed the charges. According to a Reuters report, Brazil's federal court is expected to take his case separately for the corruption charges.
Temer's alleged involvement is expected to delay the country's economic reforms, including its pension and labor reforms. Another hard reality faced by Brazil's economy is its rising unemployment rate, which reached ~13.6% in May 2017.
However, amid these disappointing developments, the country's economic growth in 1Q17 showed remarkable improvement. The chart above shows Brazil's GDP growth over the last year.
Article continues below advertisement
Article continues below advertisement
GDP growth in 1Q17
The Brazilian (FBZ) economy grew 1% on a quarter-on-quarter basis in 1Q17 compared to a downwardly revised 0.5% contraction in the previous month. The country's growth in 1Q17 exceeded the market's expectation of a 0.5% decline as it reported its first expansion in the last two years.
Brazil's growth in 2017 was significantly boosted by a rise in exports and a slight drop in consumer spending. Public spending and investments fell in 2017 due to the austerity measures adopted by the Temer administration.
Uncertain political climate
Brazil's (BRZU) (EWZS) political climate experiences continual uncertainty due to an increasing level of corruption among its political parties. Any delay in the country's economic reforms could worsen the economy, which needs support from its political clout to pass its reforms.
On the positive side, the economy otherwise is showing improvement in some of its macroeconomic factors. The rise in the manufacturing sector, exports, and improvement in business confidence is expected to support Brazil's recovery from its recession.
Brazil's benchmark index, BOVESPA, dropped ~4% in May 2017. The political developments seemed to have affected the rising equities in the second half of 2017. The iShares MSCI Brazil Capped ETF (EWZ) also fell ~5% in May 2017.
In the next article, we'll look at Mexico's economic performance in May 2017.