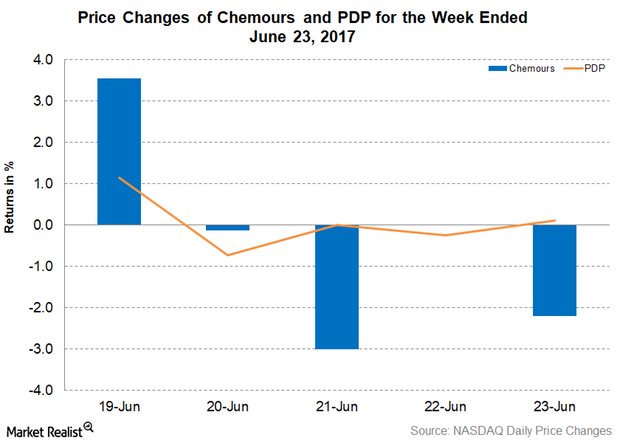 Chemours to Take New Measures to Eliminate Waste in Fayetteville
Chemours to take voluntary action in Fayetteville
On June 20, 2017, Chemours (CC) announced that it would take additional steps to remove GenX wastewater emissions from its Fayetteville site in North Carolina. Chemours claims that the report from the North Carolina Department of Health and Human Services on June 12, 2017, suggests that the GenX waste levels are well below the standards for the Cape Fear River.
CC also claims that the safety of the Fayetteville facility doesn't impact the safety of the drinking water in the region. Chemours (CC), which is a spin-off of DuPont (DD), wants to ensure that another PFOA (perfluorooctanoic acids) incident doesn't occur.
Article continues below advertisement
Chemours stock movement for week ended June 23
Chemours stock fell 1.9% for the week and closed at $36.0. CC stock has been on a downward trend since May. The decline in stock prices indicated trend reversal in the 100-day moving average. CC traded 2.3% below the 100-day moving average price of $36.85. CC's 14-day RSI (or relative strength index) of 35 also indicates that the stock is temporarily moving towards the oversold situation. However, analyst consensus expects CC's 12-month target to be at $47.14, implying a potential return of 30.9%.
Investors can invest in the PowerShares DWA Momentum Portfolio (PDP) to hold Chemours indirectly. PDP invests 1.5% of its portfolio in Chemours. PDP outperformed CC and rose 0.3% for the week. The firm's top holdings include Apple (AAPL) and Domino's Pizza (DPZ), which have weights of 3.0% and 2.8%, respectively.