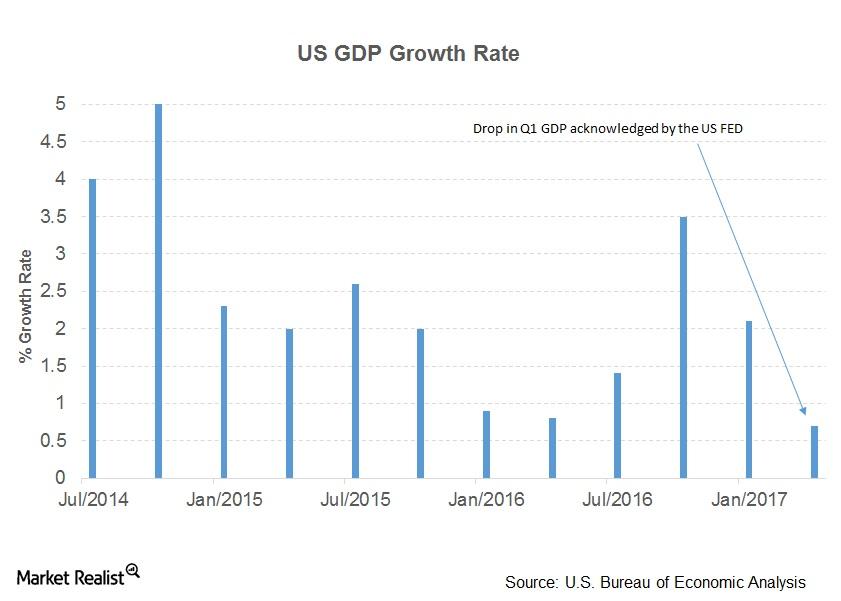 Unpacking the Fed's Outlook on the US Market
Q1 slowdown purely "transitory"
In its May statement, the Fed seems to have gone the extra mile to explain the slowdown in the first quarter. The Fed statement said job gains were solid and the unemployment rate has continued to fall.
The Fed statement introduced a new stance, this time saying that the "fundamentals underpinning the continued growth of consumption remained solid." This reassurance was likely an effort to allay fears about the slowdown that the US economy (IWV) has seen in the first quarter. The stance may have been driven by the view that the Fed wants to keep markets (SCHB) prepared for future rate hikes.
Article continues below advertisement
Article continues below advertisement
Outlook on US inflation
The Fed statement shows that the committee is comfortable with the current rate of inflation (TIP) growth. The statement reads, "Inflation measured on a 12-month basis recently has been close to the committee's 2% longer-run objective. Excluding energy and food, consumer prices declined in March and inflation continued to run somewhat below 2 percent. Market-based measures of inflation compensation remain low; survey-based measures of longer-term inflation expectations (TDTT) are little changed, on balance."
Balance of risks
The Fed statement indicated that the near-term risks to the economic outlook appear roughly balanced. The Fed's outlook increases the chance of a rate hike soon and could also limit volatility (VXX) in the markets.
In the next part of this series, we'll look at the key economic indicators the Fed mentioned in its statement.