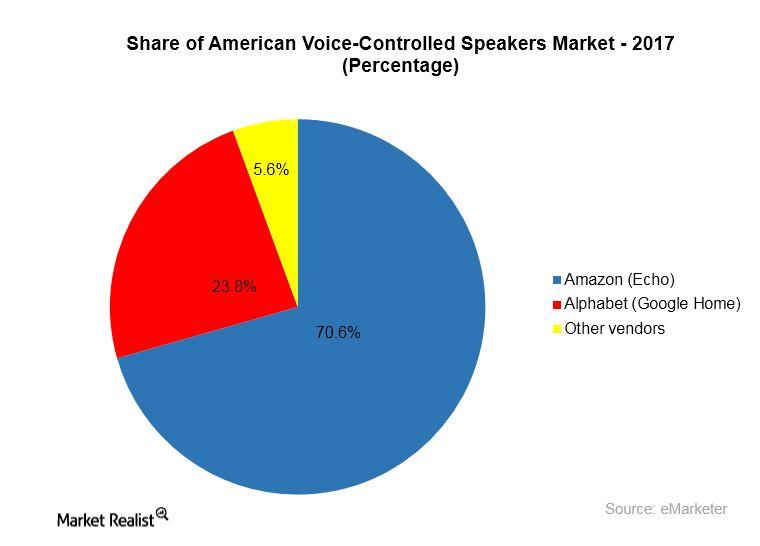 Understanding the Economic Sense behind Amazon's Echo Show
Sales to begin in June
Amazon (AMZN) has a brand new Echo smart speaker called Echo Show. Including Echo Show, there are now five variants of Echo-branded products. The other four are the standard Amazon Echo, Echo Dot, Echo Tap, and Echo Look. Echo Show will go on sale in June, and it will retail for $230.
If you look at Echo Show, which features a 7-inch touchscreen and supports voice and video calls, it looks like one of those stones Amazon is hoping will help it slay multiple birds. In the retail space, for instance, Echo Show could bolster Amazon's competition against Walmart (WMT) by expanding its consumer touch points.
Article continues below advertisement
70.6% share of the market
Voice and video support put Echo Show in its own class among smart speakers and may help Amazon to pull further ahead of its competitors. It's a challenge to Alphabet's (GOOGL) Google, which is already selling an Echo competitor, and Apple (AAPL) and Microsoft (MSFT), which are seeking to challenge Amazon in the smart speaker space.
Research company eMarketer estimates that Amazon dominates the smart speaker market with a 70.6% share.
A march to $10 billion in new revenue
With Echo Show, Amazon seems to be seriously pushing toward $10.0 billion in Alexa revenue, according to RBC Capital Markets analysts. Analysts are of the view that Alexa, the voice assistant behind Echo smart speakers, could bring more than $10.0 billion in revenue to Amazon by 2020.
They estimate that the sale of Alexa-enabled devices alone will generate $5.0 billion and that Alexa-enabled voice shopping on Amazon.com could turn in another $5.0 billion. They also see Alexa contributing to more cloud computing and app distribution sales for Amazon.