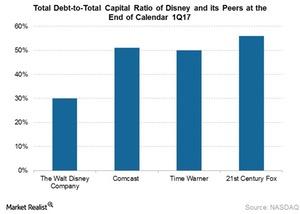 Understanding Disney's Capital Allocation Strategy
<p>Disney stated at the conference that it will keep investing in its businesses not just for growth but also to give superior returns to shareholders.</p>
Disney's capital allocation strategy
The Walt Disney Company (DIS) has always taken a disciplined approach to capital allocation, and the company elaborated on its capital allocation strategy at the MoffettNathanson Media & Communications Summit earlier in May.
Disney stated at the conference that it will keep investing in its businesses not just for growth but also to give superior returns to shareholders. Disney pointed out that its acquisitions of Pixar, Marvel, and Lucasfilm have been a part of a disciplined M&A (mergers and acquisitions) strategy that has led to growth as well as valuable IP (intellectual property), which can be monetized effectively.
At the conference, Disney was also asked about its low debt-to-capital ratio. At the end of fiscal 2Q17, Disney had a total debt of $21.6 billion and cash of $3.8 billion on its balance sheet. The company now has a total-debt-to-capital-ratio of 30%—lower than its peers.
Comcast (CMCSA), Time Warner (TWX), and Twenty-First Century Fox (FOXA) have total-debt-to-total-capital ratios of 51%, 50%, and 56%, respectively.
Article continues below advertisement
Article continues below advertisement
Will Disney take on more debt?
Disney was also asked at the MoffettNathanson conference whether it planned to take on more debt in the future. The company stated that it has a lot of cash on its balance sheet—around $3.8 billion—and so it doesn't see the need to raise more debt. So far, Disney said, its balance sheet has provided enough financial flexibility to make long-term investments.
The company also pointed out that when it comes to financing its movies, it hasn't felt the need to raise finance from third parties because it owns all of its intellectual property and doesn't need to share movie profits.
Notably, Disney makes up 0.7% of the SPDR S&P 500 ETF (SPY). SPY has 4.3% of its total holdings in the computer sector.