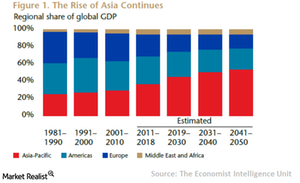 A Look at Asia's Continuing Rise
Matthews Asia
The Opportunity in Asia
Asia encompasses half the world's population and continues to experience rapid economic growth. The region is highly diverse, ranging from mature, developed economies like Japan to large emerging markets such as China and India to smaller, frontier economies such as Vietnam. Collectively, the region's share of global GDP has been rising and is expected to exceed 50% by 2050.
Article continues below advertisement
Market Realist
Rapid urbanization driving business activity in Asia
According to estimates by the United Nations, the current population of Asia is 4.5 billion, ~59.7% of the total world population. Asian economies' rapid urbanization is notable. World Bank data shows that close to 200 million people moved from rural areas to cities between 2000 and 2010, and this was just the beginning. While 49.3% of Asians (EEMA) live in cities overall, urbanization is lower in China at 48% (FXI) (MCHI), Indonesia at 45%, Cambodia at 20%, Burma at 34%, the Philippines at 49%, Bangladesh at 29%, India at 30% (INDA), and Pakistan at 36%, suggesting that urbanization could keep rising in some areas. A shift is expected in the next few decades, which should boost development and business growth.
Asia's global corporations
Asia's (GMF) high GDP growth is a clear indicator of its economic development, as is the amount of Asian global corporations. The number of Fortune 500 Asia-based companies rose from 116 in 2001 to 190 in 2016. During the same period, the number of companies based in North America fell from 215 to 142.