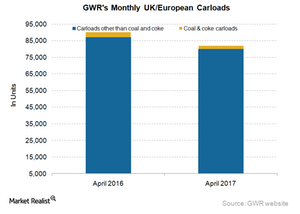 Reviewing GWR's European Carloads in April 2017
GWR's European carloads
Genesee & Wyoming's (GWR) European carloads fell 9.1% YoY (year-over-year) in April 2017. During the same period in 2016, GWR hauled 90,000 railcars, compared to ~82,000 railcars in April 2017.
GWR's other-than-coal carloads fell 8.2% on a YoY basis in April 2017.
Article continues below advertisement
Commodity groups
GWR's minerals and stone traffic rose by 856 carloads, or 7.0%, mainly on account of higher shipments in Poland. The rise was partially offset by reduced carloads in the United Kingdom. The company's coal and coke traffic fell by 1,085 carloads, or 36.1%, mainly due to lower UK shipments.
For Genesee & Wyoming, the term "carload" represents physical railcars and the estimated railcar equivalents of commodities for which the company is paid. Genesee & Wyoming is often compared with Class I railroad companies, as its operations span 75% of the United States, parts of Canada, parts of Europe, and Australia. Other US-based Class I railroad companies include Norfolk Southern (NSC), CSX Corporation (CSX), Kansas City Southern (KSU), and Union Pacific (UNP).
Departures
The transportation and logistics sector makes up part of the industrial sector. The ProShares Ultra S&P 500 ETF (SSO) invests ~7.6% of its holdings in the sector. To compare this week's freight volume data with the previous week's data, check out Market Realist's Week 18: US and Canadian Freight Rail Traffic Rises, Mexico Lags.
In this series, we've learned about the freight rail traffic of all Class I railroads in the United States in the 19th week of 2017. For ongoing updates on major US railroad stocks, keep checking in with Market Realist's Railroads page.