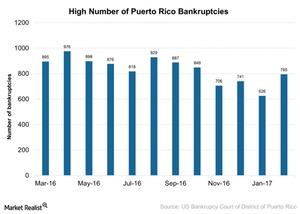 Puerto Rico's Increasing Defaults Lead to Bankruptcy in 2017
Puerto Rico's bankruptcy
The board overseeing Puerto Rico (PZT) (HYMB) filed for bankruptcy protection in a much-anticipated move in 2017. The bankruptcy filing is likely to result in a fierce legal battle among Puerto Rico's 3.4 million citizens, its creditors, and its workforce.
In 2016, the oversight board was appointed to lead the crisis that struck the unincorporated US territory in order to bring back its fiscal sustainability. The bankruptcy suit was filed due to the territory's inability to service its $72 billion in debt and $49 billion in pension liabilities as of July 2016. Let's take a look at the increasing number of bankruptcies in Puerto Rico.
Article continues below advertisement
Much awaited bankruptcy filed in 2017
On May 3, 2017, Puerto Rico's financial oversight board filed for a court-sanctioned restructuring process known as Title III. This bankruptcy filing is an unprecedented action by Puerto Rico, which isn't entitled to Chapter 9 bankruptcy protection like other US (SPY) (QQQ) jurisdictions.
However, under a law called the Puerto Rico Oversight, Management, and Economic Stability Act, US Congress gave Puerto Rico the ability to file for bankruptcy in 2016.
Increasing number of bankruptcies filed
Bankruptcies filed by the island's public agencies are growing, as we can see in the chart above. The number of bankruptcies in Puerto Rico rose to 795 companies in February, compared to 626 companies in January 2017.
Article continues below advertisement
Economic impact
The bankruptcy court proceedings are expected to have a large scale impact on Puerto Rico's economy:
cuts in pension benefits
public health and infrastructure projects expected to screech to a halt
intensified drain of monetary and intellectual capital
However, the restructuring of Puerto Rico's debt due to its bankruptcy filing is expected to mark a positive step for bondholders overall. The court proceeding is expected to be a lengthy but orderly legal process, which should be an overall help to creditors in an uncertain and chaotic situation.
Impact on investments
Some ETFs with exposures to junk bonds in Puerto Rico include the SPDR Nuveen S&P High Yield Municipal Bond ETF (HYMB) and the VanEck Vectors High-Yield Municipal ETF (HYD). HYMB and HYD have exposures of ~9.4% and 2.2%, respectively, to Puerto Rico's debt as of May 2016. In 1Q17, HYMB and HYD rose ~2% and 3%, respectively.
Let's look at the parallels to Puerto Rico's bankruptcy filing to better understand the situation in our next article.