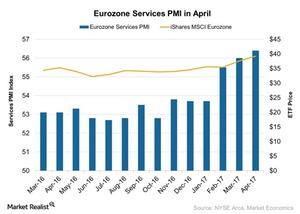 New High in Eurozone Services PMI Is Improving Outlook
Eurozone Services PMI in April
According to a report by Markit Economics, the Eurozone Services PMI (Purchasing Managers' Index) was 56.4 in April 2017 compared to 56.0 in March. The PMI figure beat the preliminary market estimate of 56.2. Various member countries of the Eurozone had better manufacturing and services PMIs in April 2017.
Article continues below advertisement
Impact on the economy
There are changes going on in the Eurozone (VGK), which could affect its business climate. Although there's still uncertainty over the Brexit vote, France's May 7 presidential election seems to be improving investor confidence in the Eurozone.
President Emmanuel Macron's platform is mainly pro European Union (EU) (VGK) (IEV) (EZU) and business-friendly, with tax exemptions promised for France's local housing. Macron also opposes a ban on Muslim headscarves. His campaign platform was directly opposite National Front party candidate Marine Le Pen's promise to introduce a referendum on a potential exit from the European Union. If more countries join the United Kingdom and exit the European Union, the future of the European Union could become volatile.
In the next part of this series, we'll look at the United Kingdom Services PMI (EWU) for April 2017.