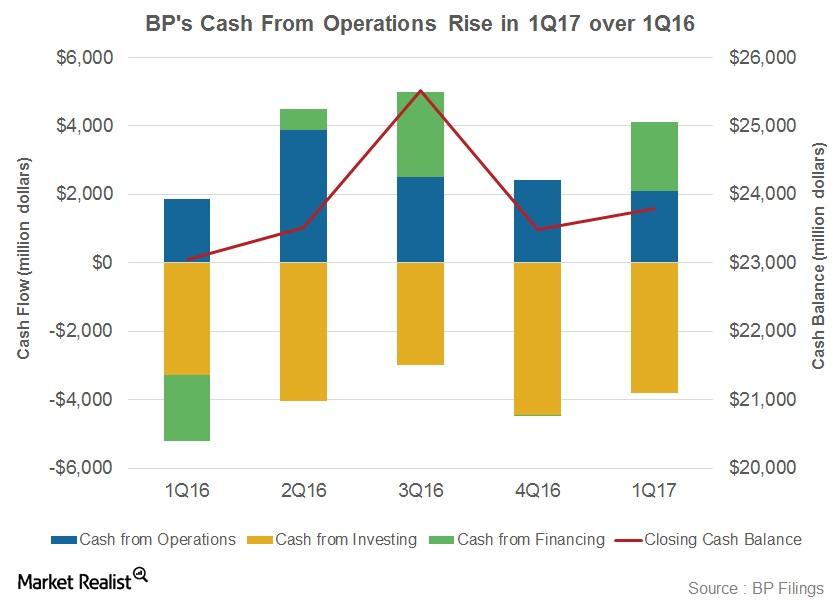 Is BP's Cash Flow Slated for Growth?
BP's cash flow
In 1Q17, BP's cash flow from operations stood at $2.1 billion, which was 13.0% higher than 1Q16. Its cash outflow from investing was $3.8 billion in 1Q17 compared to $3.3 billion in 1Q16.
BP's cash flow from financing activities largely consisted of debt movements and dividend payments. It prioritizes dividend payments so it can provide consistent returns to shareholders. Currently, BP's dividend yield stands at 6.8%. In comparison, ExxonMobil's (XOM) dividend yield stands at 3.7%, Chevron's (CVX) is 4.1%, and Royal Dutch Shell's (RDS.A) is 6.8%.
For high dividend stocks in your portfolio, you can consider the iShares Core High Dividend (HDV), which has a ~16.0% exposure to energy sector stocks.
Article continues below advertisement
Analyzing BP's cash flow strategy
In 1Q17, BP generated $2.1 billion in cash from operations. But the company had a cash outflow of $4.1 billion in the form of capital expenditures and $1.3 billion in the form of dividends, amounting to $5.4 billion of cash outflow. So how did the company bridge the difference of $3.2 billion in cash flows? It filled the gap by resorting to fresh debt, raising $3.1 billion of net debt in 1Q17.
BP's cash flow going forward
However, going forward, rising oil prices have given BP some hope that its cash flows could improve. The robust upstream project pipeline is also likely to bring in higher production in the second half of 2017. So with BP's strategy of optimizing capex (capital expenditures), reducing cost structure, and keeping the Gulf of Mexico spill charges under check, coupled with higher production in the scenario of better oil prices, its liquidity position should improve.
Since oil prices are crucial for BP's financial position, it's imperative to keep a check on oil prices. To know more about the likely direction of oil prices, please refer to Russia and OPEC on the Same Page to Extend Output Cut Deal.