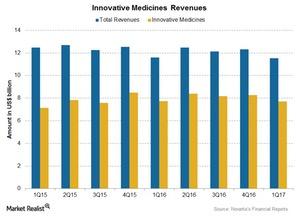 Inside Novartis's Innovative Medicines Segment in 1Q17
Innovative Medicines business
Novartis's (NVS) Innovative Medicines segment was formerly the company's Pharmaceutical segment and now includes two smaller business units: pharmaceuticals and oncology. The segment contributed ~67% of NVS's total revenues in 1Q17.
Article continues below advertisement
Key Innovative Medicines products
NVS's Innovative Medicines business includes various products classified under the therapeutic areas of cardio-metabolic, dermatology, immunology, neuroscience, oncology, retina, respiratory, and established medicines. The segment reported a volume growth of 7%, offset by a 4% fall due to generic competition and a 1% fall due to the pricing of Gleevec-Glivec in the US and European markets. The outcome was 2% operational growth during 1Q17.
The products that reported growth in revenues in 1Q17 include Gilenya, Tasigna, Cosentyx, Ilaris, Exjade, Tafinlar and Mekinist, Promacta, Jakavi, Galvus, Exforge, Entresto, and a few respiratory products.
Cosentyx and Gilenya
Cosentyx, a drug for the treatment of plaque psoriasis, spondylitis, and psoriatic arthritis, reported growth of over 100% to $410 million in its 1Q17 revenues, following strong demand across various markets.
Gilenya, an oral therapy for multiple sclerosis, reported operational growth of 5% to $722 million in its 1Q17 revenues, due to strong performance across both US and international markets. Similar drugs include Biogen's (BIIB) Tecfidera and Sanofi's (SNY) Aubagio.
Tasigna and Tafinlar-Mekinist
Tasigna, a drug for the treatment of chronic myeloid leukemia, reported operational growth of 9% to $411 million in 1Q17, following the strong performance of the drug in and out of US markets. Tasigna competes with Pfizer's (PFE) Bosulif (bosutinib).
The Tafinlar-Mekinist combination, which is used in the treatment of BRAF V600+ metastatic melanoma, reported $187 million in revenue growth in 1Q17, following the strong performance of the drug in all major markets.
To divest risk, investors can consider ETFs like the Schwab International Equity ETF (SCHF), which has ~0.5% of its total portfolio in Novartis.