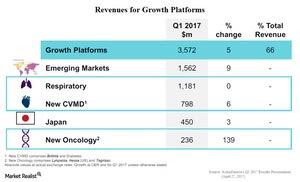 How AstraZeneca's Growth Platforms Performed in 1Q17
By Mike Benson

Updated
Growth platforms
A few of the segments and regions AstraZeneca (AZN) identifies as growth platforms include Respiratory products, new Cardiovascular and Metabolic Diseases products, new Oncology products, and regional sales from emerging markets and Japan.
These growth platforms contributed over 66% of AZN's total revenue in 1Q17. To avoid duplication on both a product and a regional basis, we've adjusted the company's total product sales for the growth platforms in this article.
Article continues below advertisement
Growth platform performances
The performances of these growth platform categories in 1Q17 were as follows:
Respiratory product sales remained flat at constant exchange rates at $1.2 billion in 1Q17. At constant exchange rates, the rise of 14% in Pulmicort sales and the rises of 42% and 54%, respectively, in Daliresp and Duaklir sales were offset by a fall of 8% in Symbicort revenue and a fall of 3% in Tudorza revenue. The segment's revenue fell 2% in absolute terms due to a 2% negative foreign exchange impact.
New Cardiovascular and Metabolic Diseases (or CVMD) products included in the growth platform included the cardiovascular drug Brilinta and the diabetes drugs Onglyza, Bydureon, Byetta, and Farxiga. At constant exchange rates, the new CVMD products reported a combined revenue rise of 6% to $798 million in 1Q17.
Emerging markets including China, Brazil, and Russia reported a combined rise of 9% in their 1Q17 revenues at constant exchange rates. Their total reported revenue was $1.6 billion during 1Q17, driven by increased sales of Crestor, Seloken, Symbicort, Pulmicort, Zoladex, Brilinta, and Farxiga.
Revenues from Japanese markets rose 3% at constant exchange rates to $450 million in 1Q17.
New Oncology products such as Tagrisso and Lynparza reported revenue of $236 million in 1Q17, a rise of ~139% at constant exchange rates compared to 1Q16.
To divest risk, investors can consider ETFs such as the Schwab International Equity ETF (SCHF), which holds 0.6% of its total assets in AstraZeneca. SCHF also holds 0.7% of its total assets in GlaxoSmithKline (GSK), 0.7% in Sanofi (SNY), and 0.6% in Novo Nordisk (NVO).