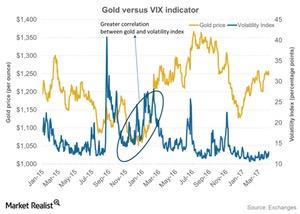 Did the French Elections Help or Hurt Precious Metals?
By Meera Shawn

Updated
Macron wins French elections
The price of gold witnessed a rebound on Monday, May 8, after touching $1,221 per ounce—the lowest level we've seen since the middle of March. The call implied volatility of gold has also subsided this week.
Specifically, gold's volatility is now close to 10%. Platinum and palladium joined in gold's revival on Monday, May 8, but silver continued to fall. (For more news on silver, check out Insights into Silver's 2017 and How the Dollar Compares.)
Article continues below advertisement
The victory of Emmanuel Macron over Marine Le Pen in the French elections was something that markets expected, but there had been more risk associated with Le Pen, as she had vowed to hold a referendum in France about potentially leaving the EU. Now, however, investors are safe to hope for better monetary policy normalization in the region.
Market volatility
Still, the overall volatility of markets seems to have had a significant impact on precious metals (GLD) as precious metal prices rise during unrest in markets. Investors often jump to gold and silver when turbulence begins.
The above chart shows how during the start of 2016, the gold and volatility indexes (VIX) (VXZ) walked in tandem. In 2017, however, the volatility of the market has been comparatively low.
ECB policy
On the other hand, the European Central Bank is expected to have a better chance of tightening its monetary policy, given the pace of Eurozone's economic recovery. At the same time, tightening monetary policy often seems to be adverse for precious metals. For this reason, investors have been watching the US Federal Reserve, as its rate hike decisions going forward in 2017 could push precious metals even lower.
In any case, the fall in these metals over the past one week has been dreadful for mining shares, with AngloGold Ashanti (AU), Yamana Gold (AUY), Primero Mining (PPP), and Aurico Gold (AUQ) all experiencing weekly losses.